Currently viewing the tag: "Talk Radio"
MotherJones quotes Frank Luntz — a man I trust implicitly and without let — as saying the right's famously loud mouths onna radio-machine are making things worse [for the GOP] (via).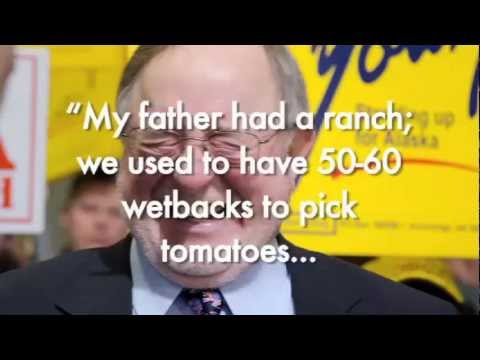 Ketchikan's KRBD recently broadcast a story about Congressman Don Young (R-AK). In one segment, Young waxed nostalgic about Tha Browns of his youth:
My father had a ranch. We used to hire 50 to 60 wetbacks to pick tomatoes, you know. It takes two people to pick the same tomatoes now. It's all done by machine.
Today's lesson in rhetoric (via This Week in Blackness on Balloon Juice) — the Gish Gallop:
The Gish Gallop, named after creationist Duane Gish, is the debating technique of drowning the opponent in such a torrent of half-truths, lies, and straw-man arguments that the opponent cannot possibly answer every falsehood in real time. […] Sam Harris describes the technique as "starting 10 fires in 10 minutes."
The simple fact is that the well of dollars keeping conservative talk radio going might very well be going dry for good. One might be surprised by something as commonplace as Rush Limbaugh's slut-shaming would be causing collateral damage for a bunch of other hosts, but I'm not. Their ratings have been dropping significantly since the midterm elections ended, and the simple fact is that if you're over 49, as most talk radio listeners are (quite older in fact), advertisers are absolutely uninterested in trying to get you to buy anything. That's just how it goes. Of course, even if the demographic is generally older, there are still going to be some people in age groups advertisers care about tuning in (perhaps for ironic purposes–I used to listen to Michael Savage semiregularly and laugh at his lack of self-awareness), so you have to balance that with the possibility of getting slimed by association. Looking at all this, it seems very obvious that a tipping point would eventually be reached, that eventually the aging demographics, chronically declining ratings and fears of ruining a company's reputation would eventually create a perfect storm, and that the meathead contingent would be stuck in the middle of it in a boat when it hit. If it weren't Sandra Fluke inciting it, it would have been something else. If the trend holds, of course.
Read more on How Will Right-Wing Radio React To Diminished Profits?…