Currently viewing the tag: "Movies"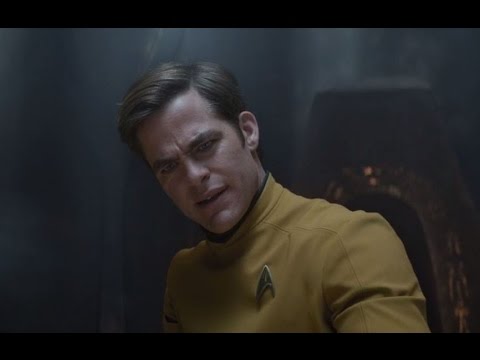 The opening scene is really sort of a statement of purpose. After a movie that was mainly unpleasant to watch–why did J.J. Abrams of all people want to essentially remake Star Trek Nemesis?–the next installment opens with a joke. And even a good one! The presence of Simon Pegg is immediately felt here and throughout the film. There's more humor, more heart, and throughout a sense that Star Trek is remembering what it's actually supposed to be about. Unfortunately, the film was much less successful than the Abrams-directed installments, but I get why. After getting punched in the face one tends to avoid getting punched again.
And Seven of Nine's outfits now become the franchise's second-most embarrassing pander to straight men.
As you can tell from the address of the post, this marks the third time I've written about this movie for the site, and probably my third distinct take on it. I'm always evolving, what can I say? My initial take was sort of guardedly positive, my second was fairly critical. This is going to be even more critical. I think this is just a movie that wears poorly with time! It's okay in the theater and for maybe a couple of days after–the Abrams treatment is typically an invigorating one, to be sure. Then you get to thinking about it, and it drops in your estimation. Then you watch it again a few years later and it drops more. Then you read a review or listen to someone talk about it and think, damn, he's right, and it drops some more. And so on. As with the prior film, virtually all of the pleasures of the movie are visceral. Unfortunately, there just aren't as many of them here. Abrams reduced the franchise to shallow fun, which wasn't great, but at least it was an improvement on the grim, unearned miserabilism of Nemesis. For reasons surpassing comprehension, Abrams turned his hollow ship in the direction of miserabilism for his follow-up. I have no idea why. I wish he hadn't.
Not going to make anybody forget Willie Nelson's definitive verson.
The Plot: Captain Picard goes to Romulus to try to work out a peace proposal with the new leader there, who reveals a secret connection to Picard. Things quickly get tense and dangerous, a cat-and-mouse game develops, a character sacrifices himself, yadda yadda. It's Wrath Of Khan, you've seen this before.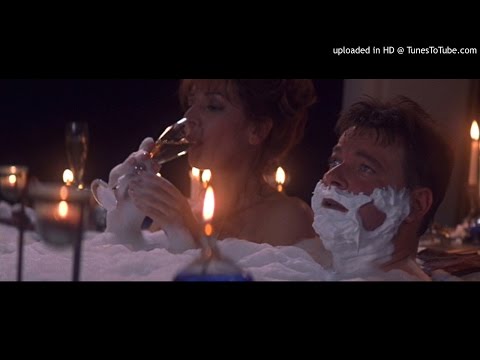 I haven't yet enjoyed this commentary, but I can tell you that Frakes's commentary for First Contact is a lot of fun.
The Plot: Captain Picard "goes rogue" to save a small community in a treacherous region of space. Data decides to explore being a child. Troi and Riker start hooking up again because why not. F. Murray Abraham is so bad as the villain that he should have mailed back his Oscar in embarrassment. Also there's a holoship and a half-hearted critique of youth obsession.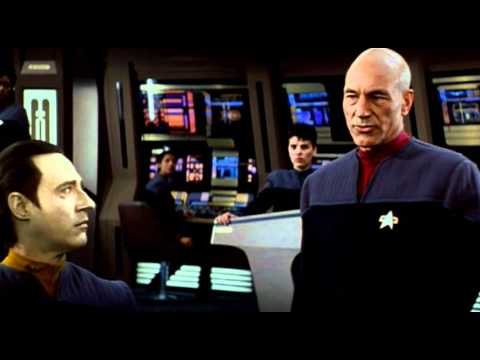 Before we get started, just a note on these trailers. The second one is the later one, obviously, and it's unusual in its own right. Lots of muffed sounds and it uses a bunch of old James Horner soundtrack music that probably wouldn't throw a civilian, but just feels really weird juxtaposed with the images. (Also Adam Scott is in the trailer!) But the original one is useful in explaining why the Enterprise-E seemed to be disliked by the fans, as all the images in that are of the Enterprise-D. People must have figured they were getting a similar looking ship in this movie. Also it reuses so much footage from Generations of all things, but it interestingly includes an alternate take of "The line must be drawn here" in it. Man were these guys lucky that this came out before these things were torn apart on the internet.
The Plot: The Soviet nuclear Klingon mining facility at Chernobyl Praxis explodes, causing an immediate energy crisis that threatens to spiral out into a full-on war if unchecked. Luckily, the Klingon Chancellor is a man they can do business with, Gorbachev Gorkon. Kirk is sent as an envoy and doesn't do well at it, but then Gorkon is killed and he's framed for the murder. (We all joke about the similarities to the real-world Cold War, but this almost happened too.) Kirk and McCoy must escape, Spock has to figure out who's behind it, and Kim Cattrall gets to play a character who was obviously going to be Saavik. Then there's a pretty great climax and the crew gets a great sendoff. A perfect ending to the journeys of a great crew. Not just some pathetic, last-ditch, bad idea…oh, wait, I'll just stop there.
Plot: Captain Kirk and the rest of the crew are recalled to duty after a rogue Vulcan takes some diplomats hostage. It turns out that the Vulcan is Spock's half-brother Sybok, and in no time he's hijacked the Enterprise and is taking it to the impassable Great Barrier at the center of the galaxy to meet God. Man does this sound dumb even describing it. This, and a lot of belabored comedy, happen before a bewildering climax. Sorry, I try to keep these impartial up top, but even writing this one is hard.
Here's the whole movie for you freeloaders out there:
The Plot: Whales!
What Doesn't Work: This is one of the weirdest things ever to be inserted into a Star Trek movie, or any mainstream movie: