Currently viewing the tag: "Mitt Romney"
Look, Mitt, I know you want to get women back on your side, but the notion that women have lost 92.3% of jobs in the recession may be technically correct in some manipulated and spun context, but it's not correct, and it's not even a good bullshit statistic. You might have been able to get away with it if you'd said, I don't know, 65%. But the notion that guys only lost 7.3% of jobs is just downright silly, and as a numbers guy you do realize that you can only have 100% in a case like this?
Mitt Romney's campaign has been referred to as a restoration of George W. Bush's policies and attitudes—you can find an example of this argument here. But what's interesting is that that seems to include campaign strategy, which to this point has been heavily influenced by Karl Rove, specifically when it comes to attacking your opponents in their places of strength. As in 2000, where the intelligent, thoughtful Al Gore was attacked for being a smarty-pants braggart, or in 2004, where John Kerry was swiftboated, presumably because his record of military service was deemed as threatening to the draft-dodging president. Rove masterminded both of these operations, and their underlying philosophy of attacking at a point of strength gained a hold on the imaginations of political writers and campaign workers throughout the nation. I, however, have never been entirely sold on the merits of this approach.
Now that the media has decided the GOP nominating contest is over (which is basically true I guess), the trendy thing to do now is to speculate on who Mitt Romney is going to pick as a running mate. As a rule I find speculation about who the vice president is going to be to be only mildly interesting, since they very rarely become presidents themselves and in the best-case scenario they are nonentities in the campaign and the following administration. But…well, it's not like I have anything better to do today. So I'll venture in this one time and give it my full attention for one single post, but I'll do it differently than most: I'll give you who I think Republicans should nominate for VP, who they could, who they won't, and who they (probably) will. The last one is probably the least surprising of the four if you follow politics. And I'll give comments on all of them of course. So, let us begin!
Read more on Veepstakes: My First (And Only) Look At This Subject…
Yesterday was a paradigmatic day in the GOP nominating contest: Mitt Romney underperformed in the state the media played up the most while still moving another big step down the road to his inevitable coronation. Which will continue a recent GOP streak of, frankly, horrible presidential nominees for another four years. Romney, like John McCain and George W. Bush before him, is a deeply flawed nominee, but what's odd about these three men is how each time, Republicans have found a person that is flawed in a different but equal way. G.W. Bush was perhaps the most flawed of the bunch, someone who was qualified on paper (though most of his qualifications were overblown when not comical) while being absolutely unprepared to be president, and having some personality traits (e.g. machismo, overcertainty, ignorance) that made his presidency an unending series of calamities. McCain had better qualifications and was probably more prepared to do the job, but he also happened to be an erratic, crazy person who would trust the nuclear codes to someone he just met. Romney, funny enough, is probably the least flawed of the three. He's well-qualified and prepared for the job, and his personality in many respects seems a good fit. But–there's always a but–he is a craven, calculating hack who lacks both courage and integrity. Nominating someone for president is an act of trust–after it's done, you give up most of your leverage over him (or her), so you have to be pretty darn sure that your candidate is going to protect your interests. Mitt Romney can't be trusted to take any sort of stand that works against whatever electorate he faces. Republicans will live to regret this one.
Read more on What The Republicans' Serial Bad Nominees Tell Us About Them…
Now that the GOP primaries are pretty much over, our premier and less-than-premier conservative columnists throughout the land have gotten the message. Time to embrace Mittens. The days of losers destroying each other to be the "not-Romney" of pundits' limited imaginations are gone for good. Now it's time for the team to unite and to start working on taking care of the numerous liabilities in Mitt Romney's campaign. Which includes healthcare, apparently. Now, the smart thing for Mitt Romney to do would be to just ignore the issue altogether in the general election. He's made the promises he needs to make, now he needs to focus on the economy nonstop if he wants to win. There is no percentage for Obama to bring the origin story of the ACA up in a general election, so if Romney left it alone, it wouldn't dog him all that much. Thing is, though, Romney can't leave it alone. Mitt Romney is one of those people who almost crave cognitive dissonance so that his restless brain can have some sort of puzzle to solve. His abortion record essentially proved this. And he wants to do something identical on healthcare, praising his plan to high heavens while denouncing the president's plan as an abomination, even though they're the same f*cking bill, according to the main architect of both. Romney's campaign has never been characterized by conceptual genius, and now his cognitive dissonance is spreading down through the conservasphere. Here's Debra J. Saunders of the S.F. Chron, struggling to keep up:
Read more on It's Time For The Mitt Romney Bullshit Patrol To Take The Field…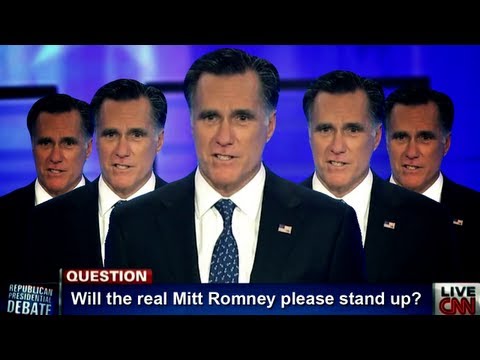 Anne Laurie found this hilarious little gem. The editing is top-notch.
Steve Benen posts this chart as evidence to show that Republicans are less enthusiastic about voting for Mitt Romney than they were for John McCain, who notoriously failed to inspire the base. But isn't the weirder story of this comparison that, after four years, Republicans feel exactly the same way about Romney as they did in 2008 (when he lost!)? That's incredible to me, that Mitt Romney and his SuperPAC have spent tens of millions of dollars and all that effort…and nothing has changed. This goes to show what I and others have been saying: Mitt Romney is a decidedly second-tier candidate who lucked out this year by not having any actual big names in the contest. Maybe John McCain should have run again, though I think it would be somehow more awesome if he runs again in 2016.