Currently viewing the tag: "LGBT Issues"
Gloria Steinem tells it straight:
We were curious what the feminist icon thinks about women like Sarah Palin and Michele Bachmann, who are not housewives, yet support traditional values and oppose abortion. "They're there to oppose the women's movement. That's their job," Steinem said, accusing the two politicians of "selling out" the women's movement. "That's just the way it is; it's inevitable. Think about Phyllis Schlafly; there have always been women like this."
Another success story to add to Marcus Bachmann's
theory of praying away the gay:
Emails shared with The Indianapolis Star suggest that state Rep. Phillip Hinkle — responding to a local posting on Craigslist — offered a young man $80 plus tip to spend time with him Saturday night at the JW Marriott hotel.
Read more on More Success In Praying Away The Gay: GOP Rep. Solicits Rentboy…
Hahahahaha:
As President Obama honored fallen soldiers at Arlington National Cemetery on Monday, three members of the Westboro Baptist Church protested the ceremny, holding signs that read "Pray for more dead soldiers" and "God hates your prayers," as the controversial group has become known to do. They were met by about 70 counterprotesters, including members from a group just as contentious as the church: the Ku Klux Klan.
Read more on Westboro Baptist Church Too Hateful Even For The KKK…
Tina Nguyen takes aim at left-wingers angry at gay people for voting Republican:
The head of the Human Rights Campaign went apoplectic when 30% of gay voters went Republican in the 2010 election, accusing the apostates of expecting too much from poor Obama.  And according to GOProud's Chris Barron, 95% of the group's hate mail and criticism comes from leftists shocked that gay people could be more than one-issue voters.  It's no accident that radical anti-gay writers like Ryan Sorba quote radical gay activists favorably – they both agree that under no circumstances should gay people be allowed to have anything resembling political self-determination.
Read more on Is The Left Too Proprietary About LGBT Voters?…
Rarely have I seen the basic logic of this ever-present cliche so efficiently dismembered, in the course of a libertarian case for gay marriage: "How does that work? If you find pedophilia disgusting, do you secretly want to rape kids? If you're against the senseless torturing of animals, do you secretly want to hook up a kitten to a car battery? No. Only when you say homosexuality might be gross does this logic apply." Could it be that some people do just find it disgusting? Not that I approve of the attitude that that personal squeamishness should keep people from exercising their rights, and the whole mentality is usually due to a lack of exposure to actual gay people. I know it was for me growing up. You know when it changed? When I actually met some gay people. And Andrew Sullivan's book made the important point that a lot of the virulently antigay people see themselves as coming from a place of love, to try to somehow improve the lives of gay people or save their souls. Bigotry is bad, but it's not the exclusive province of the homophobes by any means.
Read more on The "homophobic bigots are closeted homosexuals" canard again, and what's with Obama-hating lefties?…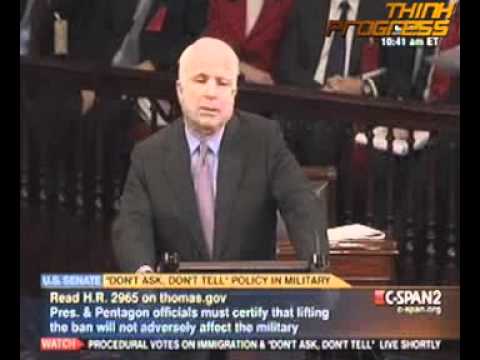 When even HotAir's Allahpundit is calling out slimy anti-gay Republican Senators on their votes against Don't Ask, Don't Tell, the wingnuts probably have a problem:
I support the move, but if you don't, look at it this way: As Gates has often said, if it didn't happen here it probably would have happened in the courts. Civilian control of the military is one thing, judicial control is something else, so the fact that repeal now wears a democratic halo will hopefully make it more tolerable to skeptics inside the branches. For your enjoyment (or irritation), via Think Progress, here's video of a very peevish Maverick grumbling in his floor speech today about liberal civilians from coast to coast high-fiving over this. True enough, but it ain't just liberals — support for repeal is upwards of 80 percent in some polls — and it ain't just civilians.
Read more on DADT Repeal Passes Senate 65-31 — Even Allahpundit Says Yay!…
And a little more institutional bigotry is slated to be thrown into the dustbin of history:
On a 63-33 vote, and with six Republicans voting "yes," the U.S. Senate — at a little before noon today — voted for cloture on the stand-alone bill aimed at repealing the "Don't Ask, Don't Tell" law, overcoming the largest hurdle remaining for repeal of the 1993 law banning openly gay, lesbian and bisexual military service.
Read more on Senate Does Something! Achieves Cloture on DADT Repeal!…