Currently viewing the tag: "John Kasich"
It's been too long since John Kasich lectured women on how to live their lives. So he did it again. Nice.
Funny thing, out of Trump, Cruz and Kasich, my wife hates Kasich the most by far. It's not hard to see why. Cruz is such an obvious creep that he's barely even threatening, and Trump definitely has major issues with powerful, successful women, no question. But Kasich just seems to have this ingrained, boundless contempt for women in general (particularly younger women) that he cannot or will not (most likely cannot) keep under wraps. He stereotypes, he condescends, he lectures, etc., all coming from a place that women are stupid and shallow and need to be told how to think and what to do by an old white dude (and a pretty ignorant one at that). Gee, one should avoid situations where alcohol is served to avoid sexual assault? Great tip! Perhaps your expertise extends to telling seminarians about things a person picks up in second grade Sunday Scho–oh damn. Incidentally, it's easy to forget considering the image he's presented, but Kasich is an evangelical/Religious Right type, just one a little bit better about hiding it than some.
I would argue Kasich is the most misogynistic of the three, which is pretty astonishing considering who the other two guys are. But I'd argue it nonetheless. The problem he has that Trump doesn't have–aside from not knowing his weaknesses–is that he's so goddamn boring that he only really gets attention when he's being an asshole, and it clashes with the sober statesman he's presented as.
While he'd certainly fare a little better than Donald Trump or Ted Cruz in a general election, it's worth remembering that the casual sexism, condescension, and tendency toward outburst that embody John Kasich's public presentational style would make for a less than ideal contrast with Hillary Clinton. So by all means, laugh at the man who only makes the news by embarrassing himself: the man still most likely to give us Donald Trump, the man who continues to operate a presidential campaign that has been unable to compete in more than a handful of states, and yet the man who is still the smart, clever one of the bunch. Kasich is a classic example of a man who doesn't understand his weaknesses–Trump has the same exact traits, but he uses them to his advantage in getting what he wants, while Kasich continually gets himself into situations that grant him no sympathy from Republicans when he's jumped on by liberals. Just fucking useless.
I honestly don't understand why the GOP just doesn't do the easy thing and give the nomination to Trump. I mean yes, he'll almost certainly lose, and more likely than not Republicans will lose the Senate too and a lot of House seats. But it won't be all that bad for them: most of the seats they'll lose will be relative moderates they don't like anyway that they can replace with staunch conservatives for the midterms. Of course, they'd have to deal with a liberal Scalia replacement in this occasion, but if Ruth Bader Ginsburg continues in her foolish insistence of refusing to retire from the Court at a politically advantageous time, then that could be undone easily enough (I'm hoping that the next Democratic president would float Pam Karlan's name as a possible replacement to induce her to retire, but that's beside the point). Let's not kid ourselves: a Democratic Court would make short work of the Roberts Court's major precedent, but it would almost certainly not engage in similar judicial activism to theirs (impossible to imagine a Kagan- or Breyer-written opinion finding a Constitutional right to healthcare, say). And even if Democrats somehow managed to recapture the House, it would be a small majority built on red-district Democrats desperately wanting to serve more than a single term, and Clinton herself has become so locked into a mode of pragmatism that I couldn't even tell you accurately what her top priorities as president would be (aside, of course, from ratcheting up tensions in Ukraine and the Middle East) and I pay a lot of attention to these things! Maybe something to do with infrastructure would pass, perhaps a voting bill, but nothing at all like the ACA, and almost certainly nothing on healthcare at all (a necessary reminder that throwing in the towel on healthcare going forward would be the equivalent to anti-abortionists chucking in the towel after passing the Partial Birth Abortion Ban under Dubya). Naturally, even the smallest of small ball measures would be trumpeted as FascistCommunism, but if I'm a Republican, on the whole, this doesn't seem too bad to me. On the other hand, the defeat of Trump would be easy to write off as a one-time thing, they'd still be able to make use of whatever clout he has with his supporters in the future as a surrogate if they wished to use him as such, and all they'd have to do would be to just wait for the steady stream of Clinton scandals, domestic inertia and "humanitarian" foreign interventions to chip away at her popularity. I suspect we'll be about due for another major banking scandal during her presidency that could be very dicey, and possibly an economic slowdown as well (it is a cycle, after all, and "up" times don't last forever). And given Clinton's treatment of Sanders in the primaries, she cuts a very first President Bush type of figure, someone who's been in the bubble for quite some time and isn't well-equipped to manage a rapidly changing party whose center of gravity is becoming more ideological and less amenable to the sorts of centrist compromises the Clintons cut back in the Gingrich days. Running on Obama's legacy was the smart move for Clinton just like running on Reagan's was for Bush, but at the end of the day, it couldn't smooth over the ideological divisions forever for Bush and it won't for Clinton. In other words, there's plenty of reason to think that 2020 could be very competitive, and the likely consequences of Clinton wouldn't be too bad from a practical perspective. Compare this with a Cruz defeat, which would be impossible to blame on anything other than his doctrinaire conservatism, and could well lead to the sort of real reformist movement that Republicans have been desperately trying to stifle starting before Obama even took office.
John Kasich has made his case for staying in:
Mr. Kasich ignored all calls to step down. He campaigned Wednesday in Wisconsin, where the next Republican primary will be held April 5, and his advisers argued that the race's final stretch of 20 states, mostly in the Northeast, Middle Atlantic and the West Coast, put Mr. Kasich in a far stronger position than Mr. Cruz to halt Mr. Trump.

"When we get to Pennsylvania, we get to New Jersey, Connecticut, Rhode Island — let me tell you, I drop out, Donald Trump is absolutely going to be the nominee," Mr. Kasich said. "I don't believe that Senator Cruz can come to the East and win." […]

After Tuesday's voting, Mr. Trump had 739 delegates, Mr. Cruz had 465 and Mr. Kasich had 143.
It is deeply odd that Kasich has remained a candidate. He's essentially run a two-state race at this point, which is less than you typically need to win. Unlike other candidates, he's barely registered any support where he hasn't extensively campaigned, indicating that he has no base and little enthusiastic support. And that win made it impossible for anybody but Trump to win the nomination outright. The notion that Kasich will pose any real challenge to Trump in the Northeast is a fantasy, while Cruz could plausibly build a winning coalition among libertarian and highly religious Westerners and Midwesterners. Of course, at this point, Republican elites have changed their mind so many times about who they want in and who they want out that it's not surprising that Kasich doesn't want to let the fantasy of his presidential nomination die, and their unrelenting stupidity and panic makes this somewhat understandable.
It is ironic that Kasich has the reputation as a hard-headed, sober type, considering how silly his logic is on this whole thing. The notion that a convention deadlocked between a large Donald Trump faction and a smaller Ted Cruz faction would choose John Kasich as a compromise option is ridiculous given how he's campaigned. Even Rubio won more contests than Kasich. Kasich has barely even tried to win among the party's conservative base, apparently believing that there are enough moderates around to hand him the nomination. Yes, in a contested convention "anything" could happen, and a multiballot convention hasn't happened since the modern primary system was put in place, but the idea that delegates would take it away from the top two vote-getters and give it to a very distant third is crazy. And if he did, the nomination would be worth as much to him as it was to William Howard Taft in 1912. Kasich has no real base within the Republican Party, has run a campaign under circumstances that should have persuaded him to drop out, and has stuck around mostly by simply failing to leave despite there being no reason to stay. And he'd be a terrible general election candidate, by the way: take Bob Dole's "edgy" humor, subtract Bob Dole's likable personality and replace it with nothing (save an obsession with a wonky, backfire-ready issue, the Balanced Budget Amendment), and you have Kasich. His treatment of women on the campaign trail in particular suggest he would have a difficult time disciplining his mouth while facing off against the first woman presidential candidate (most likely). His history with Lehman Brothers would invalidate any sort of GOP critique of Hillary Clinton's Wall Street ties. He would likely lock down Ohio, a must-win Republican state, but other than that he has serious liabilities.
All I can say is that, as a Democrat, John Kasich's irrational campaign is one of the best things to happen to us this year, and in its own way as sure a sign of GOP elite breakdown and folly as Trump is.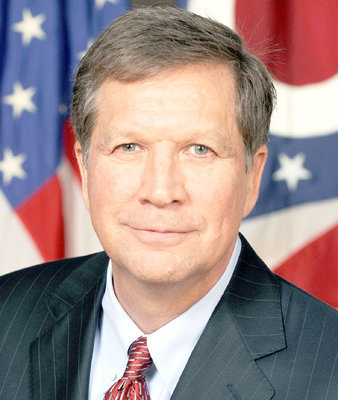 As I've written more than once, Obama didn't win the 2008 primaries because people hated Hillary Clinton. Some did, but many of his supporters thought Hillary was perfectly acceptable. Obama won them because of the contrast he cut with George W. Bush in every sense: background, style, intellect. Clinton obviously offered a contrast as well but it wasn't as dramatic as the one Obama offered: Obama is neither white, nor a Boomer, nor an Iraq War supporter, nor part of a prominent political family. Clinton is all of those things, as was Bush. Replacing a white evangelical with some studied roughness around the edges with a secular black intellectual who was (and remains) quintessentially smooth was an unspoken driver of Obama '08. I'm speaking mostly of the primaries here: in the general election, fundamentals reign mostly supreme. But I think that was a bit part of the general as well.
Looking at 2016, I was wondering who it is that could have a similar kind of pull for the Republicans, and I think the only real one that plausibly could is John Kasich. Just look at the field. Bush is drowning under the weight of his own family baggage and weaknesses as a candidate. He's the exact wrong kind of contrast they're going to want to draw with HRC. Walker has quickly faded and clearly seems to have no feel for presidential level politics. Rubio is obviously a possibility but he's taking exactly the wrong angle, trying to cast himself as another biography-driven, cool and charismatic Obama type when that is simply not the mood of the moment, nor is he a natural fit for that persona. (Obama would never have grabbed the water bottle.) Go down further and it just gets crazier. Huckabee and Cruz are at this point interchangeable Tea Party dimwits who won't get anywhere near the nomination. Trump is Trump. Fiorina and Carson have not one day's worth of experience in office between them. And so on. But Kasich? Almost a perfect response to Obama, if you think about it. Conservative, but with some willingness to break with orthodoxy. Actual blue collar roots. An unexciting but popular politician with significant executive experience. That's a pretty good contrast, and certainly a better one than the others can provide. But stuff like this makes me think that he's also the sharpest political operator in the Republican field. Kim Davis's actions are hilariously counterproductive, more likely to kill off resistance to marriage equality than to spur mass backlash. To drag her case through the courts and then just ignore the ruling? Dumb. Putting aside Davis's own serial marriages, there's simply no real principle at stake here. If Davis doesn't want to sign the licenses, she can always resign. But she won't. Hilariously, she has forced conservatives to back a literal incarnation of their oft-invoked vision of crooked, parasitic government employees who draw paychecks and don't do their jobs. Kasich understands this and condemns it, and is also going for a kind of Sister Souljah moment here, finding an undamaging way of breaking with the cultural politics that much of the country has fallen out of favor with. It says something about the field that nobody else has thought to do this, even though none except for the two aforementioned dimwits have actually made a show of standing with the woman. It's not going to change the race on its own, but it's a sign of tactical sophistication, if nothing else. And unless you want to count what Trump's been doing as tactically sophisticated (which is not quite how I'd describe it), then this is rare indeed.
I'm beginning to think that Kasich might be the only person who could conceivably beat Clinton, barring some kind of economic disaster, though obviously he's going to have his problems with his party's purists and obviously there's that Lehman Brothers thing. But no pol is without weakness, and I've not seen as well played and subtle a moment as this from the other candidates. Something to keep an eye on.
Increasingly you see John Kasich's name bubbling up as a possible presidential contender for the GOP. Mitt Romney said it. So did this guy. My immediate response would probably be like, "Hey, if y'all want to try another business Republican who lost a presidential race before and worked in the financial industry, then go on ahead!" You can see why Romney in particular would like the idea.
In all seriousness, we know that nothing happens in a vacuum, and that Kasich's name is getting trial-ballooned at this point seems directly related to Chris Christie's disastrous plummet in electability. So the people who were backing Christie are inevitably going to cast about for someone who checks most of his boxes, and Kasich in fact does check many. He has a record that is conservative but could plausibly be spun as bipartisan and moderate, which it is in some places. His financial industry ties would likely insure he could raise the money to plausibly run, which is undoubtedly a huge determinator of success in the entire venture. He's as establishment as you can get and is more politically savvy than, say, a Ted Cruz bull in a china shop type. But he also shares the same weakness as Christie, from a nominating perspective: he's not popular among the Tea folk due largely to his pushing through of Medicaid expansion, which could well earn him a veto among primary voters.
If you were to put me on the spot, my guess would be that Kasich is much better positioned to win a general election for the GOP than (putative main rival) Scott Walker would be, in spite of the his position at Lehman Brothers, largely because Kasich would probably be able to guarantee a win in Ohio while Walker wouldn't be able to do so in Wisconsin (Ohio being split almost exactly down the middle politically means even a few percent of home state advantage would tip it), and Kasich does have a couple of major accomplishments that would appeal outside of the core GOP base while Walker has none. But Walker is better-positioned to win the GOP nomination in large part because of Kasich's moves on Medicaid, and because Kasich abandoned his Walker-esque persona early on and focused more on touting his jobs record and trying to appear like a normal, empathetic human being. All of which is well and good, but I suspect Kasich was not seriously thinking of a presidential run when he was doing these things, and unless the base lets him slide on them, I don't think he's going anywhere. And apart from that, Kasich just doesn't seem like someone with the communication skills to make a presidential run work, as nearly everything he says makes him sound like the FOX News host he used to be:
Ohio Gov. Kasich says yes to Medicaid expansion, Pennsylvania Gov. Corbett says no.
This is actually pretty easy to explain. Kasich runs a less liberal state, but he evidently doesn't have to worry about a primary challenger, so he can go ahead and take the odd liberalish stance that will set him up for a re-election bid. Corbett does have to worry about a primary, so he's making decisions that will make his re-election even harder, and it's going to be hard to begin with. In any event, it's interesting to see the 2010 Red Squad Governors break up over a big issue like this.
Tuesday night turned out to be a very good night for Democrats, easily the best since Obama's victory in 2008. The major wins here are, in rough order of importance:
This is all good news for Democrats, though obviously to differing degrees. The Ohio win is a big deal for a few reasons, namely that it's helped the state's Democrats regroup and mobilize, and it's very nearly crippled John Kasich's governorship with three years left to serve (Ohio has no recall mechanism, so short of resignation or impeachment they're stuck with him). The double-digit margin of victory is a real accomplishment, and a sure sign that Kasich's leadership of the state has completely foundered. This should* also likely mark the end of the GOP's push to kill off public sector unions for the near future, as electoral defeats almost can't get any more resounding.
The Mississippi initiative is reminiscent of South Dakota's failed attempts to pass similar laws a few years back, in that it goes too far for all but the most radical of pro-lifers. Commentators insist on describing the abortion issue as hot-button, but it really isn't–the public has pretty much decided how it feels about the issue and it actually has a pretty coherent position:
keep abortions generally legal under Roe
, but
add some restrictions to the current regime
. This stance is closer in substance to the Democrats' position than to that of the Republicans, though the issue continues to be contentious largely because this consensus is unsatisfactory to activists and donors on both sides of the debate. Which, fair enough. But those folks (and particularly pro-lifers) often tend to interpret the equal numbers of self-identified pro-choicers and pro-lifers as significant rather than symbolic. In reality this is often more of a marketing category, neither group is a uniform bloc, as you can see by following the links. The notion of a personhood amendment is therefore going to be enticing to people who think that fortysomething percent of the public favors their ideas, but in the real world it's a very tough sell: according to the Gallup Poll, only about 20% of the public believes in a complete ban on abortions, and the personhood concept goes even further than that to target some birth control provisions. Obviously a state like California or Pennsylvania would never enact such a law, but in heavily conservative Mississippi, you might figure that the 20% might carry the day. That didn't happen, which almost certainly marks the end of this particular pro-life strategem for now, and it's not every day you see reproductive rights winning at the ballot box in Mississippi! We're arguably past the point where the pro-life movement has become considerably more radical than pro-life people in the country, and it'll be interesting to see where the backlash leads.
The others are significant too. Iowa's Senate flipping would have been a big deal, perhaps a shift toward a more Red Squad-ish Republican strategy in that state going forward. That didn't happen, thankfully. Pearce's defeat is satisfying to be sure, but he did lose to another Republican, albeit one who has less caustic views on immigration. This apparently answers the question of how out there you have to be to get kicked out of the GOP for being too xenophobic (reminiscent of how Ozzy Osbourne got kicked out of Black Sabbath for doing too many drugs, if nothing else). Beshear's re-election is a boost for Democrats, but probably not very important more broadly, as he was facing one of the more inept opponents of recent years.
All in all, not a bad showing for Democrats. Not that it necessarily means anything going forward. San Francisco, for what it's worth, gave interim Mayor Ed Lee a full term as expected, which matters to me because somehow several of the mayoral candidates somehow got my name put into their mailing lists and the resulting spam was annoying. Congrats Ed!
Still outstanding: the Virginia legislative races, which look to be pretty tight.
* Should, but I'm not taking odds.