Currently viewing the tag: "Hillary Clinton"
I think the worst thing about Hillary's much-maligned slogan is that I do truly think she believed it. It's not a good sign when your genuine expressions of patriotic fervor sound indistinguishable from garden variety pandering that make liberals (and voters at large) groan. But while it is true that the Clintons basically employ a bunch of hacks and it sounds like something confected from them via focus-grouping, it seems to be just so off from what anyone even remotely inclined to vote for a Democrat would respond to that I have to assume that Clinton herself actually believes it and pushed for it to be included in the campaign. She did put a bunch of other issues–military intervention, capitalism, etc.–in the same terms. America is a force for good! Capitalism helped make the country great! It's not like she's the first to do this stuff, they all sort of do, but what was the point of it? Who was supposed to respond to it?
I do enjoy most variations on that "but her emails" meme out there, but the dumber version of that that I can't stand is "Thank God that war pig Hillary isn't in the White House now!" Hillary Clinton was/is extremely hawkish. Just a fact. People who are antiwar had every right to be bothered by this (though it may be fair to criticize many who suddenly found this aversion with Hillary Clinton after how many years of not giving a shit what Obama did–I did notice a huge uptick in this sentiment around the web during the primaries, just sayin'). Even after losing a goddamn presidential nomination over this issue she chose to change not one bit–she repudiated the Iraq War but supported regime change in Libya, which was essentially a dime store Iraq War. She made her choices and it's not wrong for people to value certain elements of her record above others, and it's not right to shame reluctant supporters over something that almost certainly wasn't decisive. I ultimately don't actually believe that Trump really wedged anybody from Hillary on it. There probably were some people who trusted Trump's denunciations of the Iraq War and all that but frankly if they trusted Trump on that, they probably trusted him on other stuff too. Trump's foreign policy wasn't "disruptive" to the Republican paradigm, it basically was the Republican paradigm, with a complete reliance on military force, a disdain for diplomacy, hatred of multilateral institutions and agreements, and a frankly paranoid worldview. Nothing really different from Dubya/Cheney in any meaningful way. This is why she was better even in that direction, if not wildly so. Clinton's worldview is only situationally paranoid (see: Iran) and she does believe much more in diplomacy and multilateralism, but it wouldn't have killed her to have taken just a single high-profile dovish stance once in her career and it just never happened. Again, choices.
My real irritation at the endless replaying of 2016 is that it's the superficial part of what happened. Bernie said such and such, the DNC did X, Hillary didn't back Y, and so on. After a certain point it's just boring to rehash this stuff endlessly. But there was a philosophical dimension to it that hasn't really been explicitly stated and that is probably why the situation still evades resolution. It's essentially this: Hillary Clinton argued, in essence, that she knew the system very, very well and could get it to work for everyone, while Bernie Sanders argued that the system was broken and couldn't be made to work, and also for whom again? Clinton supporters got mad at that second part of the argument, which was fair. But while it's a simplification to argue that Sanders's supporters were people with little to lose from the system crashing in the ocean and Clinton's tended to be people who had a lot to lose (or, at any rate, perceived that they had something to lose) from it, it's not all that inaccurate.
Read more on The 2016 Primaries Are A Nightmare From Which We Cannot Awaken…
The excerpts of Hillary Clinton's book that are leaking out mainly just make it seem unbearably dull. Blaming Bernie Sanders for Clinton's decline in popularity is exactly what Jon Chait and others have done essentially from the outset. You know the drill. Bernie overpromised and made Clinton's agenda seem duller and less exciting. Bernie used unfair ad hominem attacks. And so on. These are beyond stale arguments at this point. That it took Clinton ten months of soul-searching to end in exactly this place is tremendously, insanely boring, and offers zero useful insight into why Bernie had the success he did, or how best to move progressivism forward. It doesn't speak well of Clinton herself that she's reopening old wounds in this way–if it's closure she's after then this is not a great way of going about it. Her argument is essentially the same one she lobbed at him during the campaign, which is the nightmare from which we cannot awake I guess. Why this is being presented to us as "with the benefit of hindsight" when it could have been written in May of last year is beyond me.
Intent on not being besmirched and ignored,
Because this is just what we need right now.
It is interesting that Hillary Clinton's numbers haven't bounced back at all since the end of the campaign. You would figure the lack of ads being run against her and buyer's remorse would have helped her rebound a bit, but apparently not. It says something about Clinton's complete inability–outside of her hardcore base–to engender sympathy, but that's I think more an effect than a cause. There really wasn't any ideological difference between Clinton and Obama, but the latter was so damn good at making a majority of the public feel like he was "one of them." How many times were liberals mad because Obama gave away too much to Republicans in negotiations (again!), but then he'd give a State Of The Union and the web would be full of sentiments to the effect of, damn, this guy is so well-meaning and smart! Clinton just couldn't do that. Instead she had a way of doing the opposite even when she was giving people most of what they wanted–for example, her rejecting a $15 minimum wage because her economists said $12 would be better. Who cares?! It's just a way of telling everyone working toward that goal that she's not with them, and signals to working people that she's not willing to go out on a ledge for them. It's not like they were going to be pivotal in the election or anything! (In retrospect, that may have been the moment where she actually lost the election.) Obama would let people think he was with them even if he wasn't, Clinton seemed to be obsessed with not letting people do that, for whatever reason. After a point I'm not sure what she was really fighting against with this stuff. But if the goal was to try to draw a sharp line with left-liberals to set herself apart from them, well, it worked, and they still don't much like her.
I guess we're arguing whether Hillary Clinton was the worst candidate in history or not again. I'm sort of bored by the topic but here goes. Clinton won 48%, pretty much exactly what John Kerry won in 2004. Trump won 46%, just slightly better than John McCain did in 2008. Both candidates more or less replicated (in percentages) the worst result their party achieved this century. It makes sense considering that both were very unpopular candidates. Which is why this Pierce piece strikes me as asinine. "Trump was actually pretty great" is something that will make Clinton supporters feel a bit better about having backed a candidate who twice lost elections deemed to be unloseable, but it just doesn't add up. Trump won the nomination because the other major contenders were either tainted or had flaws that made them unpalatable. He managed a whopping 39% of the vote there. Trump's general election win was largely dumb luck to such an extent that he didn't even think would happen, Comey plus a fluke of the electoral system. It undoubtedly makes people feel better to build Trump up to argue that Clinton was actually a great candidate who just got beaten by a better one, but in actuality she and Trump were both pretty bad. The real difference is that Republican elites largely kept their distance from Trump until the election while Democratic elites nearly unanimously supported Clinton. That she failed twice makes them look bad. So it's no surprise this sort of revisionism would appear.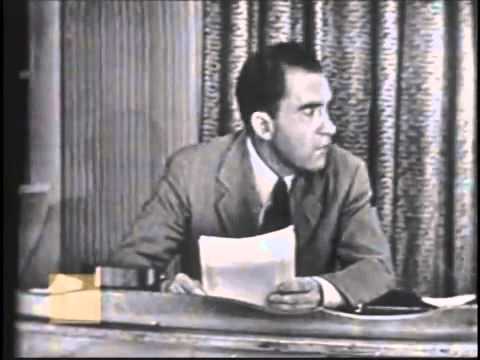 So there are a million counterfactuals you can run on the 2016 election. What if Jill Stein had made an eleventh hour Clinton endorsement? What if Sanders had won the nomination? And so on. But I was thinking about one recently that might actually have changed the course in a positive direction: What if Clinton had given a high-profile, Checkers-style speech in which she explained the email issue, denied any wrongdoing, and defied critics to put up or shut up?