Currently viewing the tag: "Fact Check"
Today's case of omgareyouseriouslyfuckingkiddingme-youridiculousmediaassholes:
A number of readers have raised questions [ed: FAINT!] about the president's statement that he goes skeet shooting "all the time"… In these suspicious times, they would like to see some evidence. But the White House has been oddly silent about the matter.
OMG! Questions have been raised! The White House is being SILENT!! Bring this man some smelling salts!
Read more on White House Suspiciously Silent About Claim That Obama Sold Miley Cyrus To The Marglars On Planet Doom…
Oh how we love it when Sully has too much coffee and makes sweeping categorical statements that are wrong:
If there's one thing we know about the American public right now it is that it is firmly in favor of no cuts on spending, no increases in taxation, and no raising of the debt ceiling limit.
This election cycle yet again reminds me of how useless fact-checking really is.  It's simple:
GOP pol spreads a lie; and people listen.
Fancy fact-checker fact-checks; and none of the "low information voters" who matter pay attention.
I was just pondering Blu-Ray to myself this evening and thought I'd open up the topic to comments.  Does anyone find themselves using Blu-Ray discs very much?  I definitely understand the improvement in the context of video games (e.g., Playstation 3) and increased storage available on-disc for backups.  However, when it comes to movies and the presupposed displacement of DVDs, I really wonder if online content distribution is going to outpace Blu-Ray in the home theater space.  Thoughts?
Read more on Provocation of the Day: Does Anyone Use Blu-Ray?…
In my fresh, wide-eyed younger years, I built an image of government as being a place where two passionate yet rational groups would come together, argue the merits of their respective positions — using facts and stories and logic and other such things — and usually come to some kind of reasonable compromise based on some semblance of reason and concern for their constituents.
Boy was I wrong.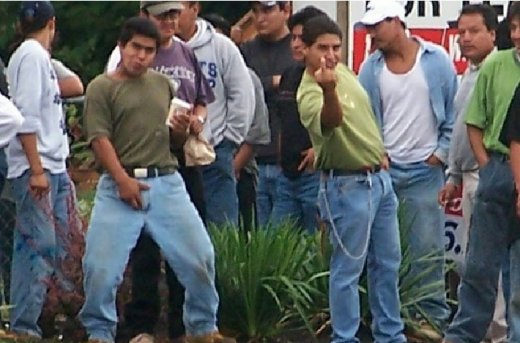 Take a depressing case in point: Arizona. Far-right reactionaries in the state have been fanning people's fears of nefarious deeds committed by shadowy illegal ne'er-do-wells to justify encroachments on liberty that are, at best, draconian, xenophobic and unconstitutional.
What supposedly undergirds the fear-train that all these respectable reactionary leaders are jumping onto?
They keep telling us: Violence and Crime. They're way, WAY up! Be SCARED!
Here's Old Man McCain on the issue:
Read more on On Arizona: I Really Don't Know How You Fight The Shamelessly Irrational and Win…