Currently viewing the tag: "DADT"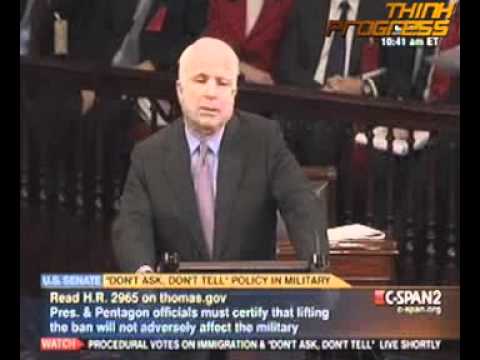 Ha ha: "What a bullet this country dodged in 2008. Frankly, I'm not sure he was even the best candidate on his party's ticket at this point…"
I understand if you don't have the heart to watch the video, but it's grimly fascinating. McCain sounds bad and looks bad. He's tired and worn out. I doubt he's near death, but if it were to happen tomorrow I would not be surprised on the basis of that video. He's blinking all over the place and shuddering, and he says he believes in following military leaders and names two Chiefs of Staff who are wary of ending DADT while ignoring the other three, as well as the friggin' Chairman and the Secretary of Defense, not to mention the president. He must think we're stupid. It's just funny that, in the end, McCain and Lindsey Graham are the only ones who even care about keeping DADT in place. The Senate Republican leadership doesn't even care and is probably glad it's over. Gay rights are a liability for Republicans now and the next big fight–repealing DOMA–is probably 5-10 years away at this point. Additionally, I hope this incident will help the media get over their notion that Lindsey Graham is anything special. Like Bob Corker, he often likes to talk like a Senator, but neither one has yet met an inconvenient position they couldn't just dump or an inconvenient vote they couldn't duck. There's a word for that.
After the 2008 election, Obama's campaign operation–Obama For America–became Organizing for America. I've stayed on their list, and here's an email I just received:
The President has been on the phones.
One week before the midterm election, mindful of his disillusioned Democratic base, Obama holds a Q&A session at the White House with progressive bloggers. Transcript from AMERICAblog:
Q I was glad to hear that you and your staff appreciate constructive feedback.

THE PRESIDENT: Yes, that's something we enjoy. (Laughter.)

Q We've been more than willing to offer that. We've certainly been more than willing to offer that from AMERICAblog, particularly on issues related to the LGBT community, which, you know, there is a certain amount of disillusionment and disappointment in our community right now.

And one of the things I'd like to ask you — and I think it's a simple yes or no question too — is do you think that "don't ask, don't tell" is unconstitutional?

THE PRESIDENT: It's not a simple yes or no question, because I'm not sitting on the Supreme Court. And I've got to be careful, as President of the United States, to make sure that when I'm making pronouncements about laws that Congress passed I don't do so just off the top of my head.

I think that — but here's what I can say. I think "don't ask, don't tell" is wrong. I think it doesn't serve our national security, which is why I want it overturned. I think that the best way to overturn it is for Congress to act. In theory, we should be able to get 60 votes out of the Senate. The House has already passed it. And I've gotten the Secretary of Defense and the Chairman of the Joint Chiefs of Staff to say that they think this policy needs to be overturned — something that's unprecedented.

And so my hope and expectation is, is that we get this law passed. It is not just harmful to the brave men and women who are serving, and in some cases have been discharged unjustly, but it doesn't serve our interests — and I speak as Commander-in-Chief on that issue.

Let me go to the larger issue, though, Joe, about disillusionment and disappointment. I guess my attitude is that we have been as vocal, as supportive of the LGBT community as any President in history. I've appointed more openly gay people to more positions in this government than any President in history. We have moved forward on a whole range of issues that were directly under my control, including, for example, hospital visitation.

On "don't ask, don't tell," I have been as systematic and methodical in trying to move that agenda forward as I could be given my legal constraints, given that Congress had explicitly passed a law designed to tie my hands on the issue.

And so, I'll be honest with you, I don't think that the disillusionment is justified.

Now, I say that as somebody who appreciates that the LGBT community very legitimately feels these issues in very personal terms. So it's not my place to counsel patience. One of my favorite pieces of literature is "Letter from Birmingham Jail," and Dr. King had to battle people counseling patience and time. And he rightly said that time is neutral. And things don't automatically get better unless people push to try to get things better.

So I don't begrudge the LGBT community pushing, but the flip side of it is that this notion somehow that this administration has been a source of disappointment to the LGBT community, as opposed to a stalwart ally of the LGBT community, I think is wrong.