Currently viewing the tag: "Carly Fiorina"
I'm told that losing elections is personally very rough on people. I have no idea why our Carly keeps choosing to do it.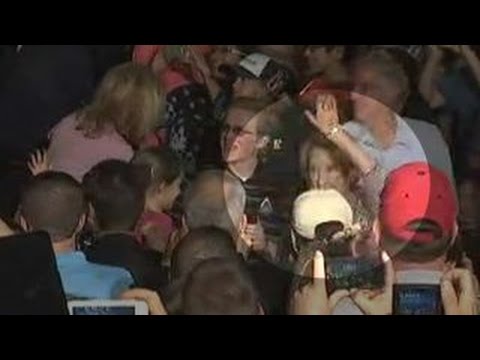 It should surprise nobody that Carly Fiorina has bounced/is bouncing back:
"Carly Fiorina's quiet outreach to state party chairs in recent days has top Republicans speculating that she's laying the groundwork for a Republican National Committee chairmanship bid," Politico reports.
Aww, Ted.  Did #carlyfail not give you the boost you needed?
Sen. Ted Cruz of Texas said Tuesday night that he was suspending his campaign to be the GOP presidential candidate, potentially ending any real battle for the party's nomination… "From the beginning I've said that I would continue on as long as there was a viable path to victory. Tonight, I'm sorry to say, it appears that path has been foreclosed," Cruz said during a Tuesday night speech. "The voters chose another path, and so with a heavy heart, but with boundless optimism for the long-term future of our nation, we are suspending our campaign."
Read more on Ding Dong, The Slimy Pervo Vampire Zombie Squid Thing Is Dead…
I'm afraid I'll be piling on here: it says something about the political intelligence of Carly Fiorina that she jumps aboard the Cruz ship (sorry) the day after Trump essentially scuttled it by winning a handful of primaries by yuuuuge margins and putting himself on track to win the nomination. Unsurprisingly, there was an opening for first mate of the Titanic after it hit the goddamn iceberg.
You have got to be fucking kidding me:
Senator Ted Cruz of Texas, desperate to alter the course of a presidential primary fight in which Donald J. Trump is closing in on victory, will announce Wednesday afternoon that Carly Fiorina will be his running mate if he wins the Republican nomination.
I can hardly imagine a presidential ticket I'd loathe more.  Aside from what, Stalin and Mussolini?
I'm kind of amazed that Carly Fiorina didn't just drop out after Iowa. Guess she's WAITING FOR NEW HAMPSHIRE even though she's hardly doing much better there, nestled in between Chris Christie and Ben Carson for seventh place, and a lot closer to slipping behind Carson than ahead of Christie. She's become completely irrelevant in all respects to the race and doesn't seem to enjoy doing this whole "run for president" thing very much–never has, seemingly–so one would figure that she'd just get out at the earliest opportunity. Also, not for nothing, but the more contests you lose, the less it seems as though anyone cares what you have to say. Unless you think Jerry Brown's 1992 presidential run was some sort of brilliant example of how not to destroy your brand for 18 years. At any rate, there had been some sort of outside chance of a VP offer or a media gig or even a high-profile cabinet position earlier in the race, but at this point it's going to either be Commerce Secretary or obscurity. Admittedly, she has enough money to keep pretending to have a political career indefinitely, certainly enough to keep her run going pointlessly for months, and in the future the California Republican Party is almost certainly desperate enough to give her another shot at a self-funded statewide run if she wants one (whether they're desperate enough to get behind a Kelsey Grammer vanity run is another question). After all, this year they have three people running for the state's open US Senate seat, and between them, they may be able to afford a single 30-second ad in the LA media market. Fiorina isn't a great politician but she'd surely be able to get into the top-two general election, which at this point looks like it may well be an all-Democrat affair.
Whatever happened to Carly Fiorina? It's almost as though a bunch of hacks going gaga over her debate performances didn't change the fundamentals of a campaign that was garnering 1% before them for a reason, and whose prior political history does not include any obvious indicators of ostentatious talent (aside from apparent networking skills). Dudes, just because you're all off-the-charts tired of writing about Donald Trump and are clearly bored stiff over Ben Carson doesn't mean you can will a more interesting top-tier Republican candidate into being. Though it did manifest a Senator from Iowa last year, I suppose.