Currently viewing the tag: "2017 Elections"
Pretty sweet victory, though the universal forces seeing fit to make 2017 into a bizarro parallel of 2009 really are just a little on the nose, aren't they?
I was going to write a bit of a longer piece on this yesterday but then I had to spend four hours putting out an unexpected fire at work, so it didn't happen. All I can say is that I'm glad to have been wrong in worrying. In fact, there's not a lot of downside for Democrats over Tuesday's results. The results in Virginia were outstanding, of course. I don't attribute any of this to the amazing campaign skills of Ralph Northam. I see no evidence of any such skills. My guess is that he'll quickly become an obscure figure, leaving the flash to incoming New Jersey Governor Phil Murphy, and I doubt I'll ever write about him again. Anyway, the downballot strength of Democrats reflected the fundamentals, particularly of a very unpopular Republican president, primarily, as everybody says. Still, to get to the point of nearly taking the egregiously gerrymandered Virginia House is something indeed. My main concern is that Democratic organizations will latch onto the media's "suburbanite revolt" narrative by running civilitybots from coast to coast, particularly since many of the incoming Democrats are extremely progressive. But they were probably going to do that even if Northam had lost. It's amazing how quickly the conventional wisdom shifted from, "If Democrats don't reach out to working-class whites, they're doomed!" to "If Republicans lose suburbanites, they're doomed!" But such is conventional wisdom.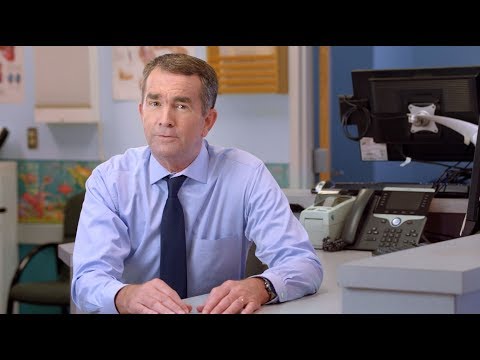 He's going to lose this race:
This is weak and just plain awful, something forgotten entirely the moment it ends. If Northam does win it will mean he couldn't ever lose no matter how bad a campaign he ran. You'd think that the 2016 elections would have thrown an existential shock into Democratic Party professionals, but no, it's the same exact game over and over again. Passionless technocratic centrism is seemingly the only thing they know how to package and sell, damn the public which seems to have little demand for the product.
Dem Northam struggling in the Virginia gubernatorial race. No doubt Bernie gets blamed if he gags it away, but they don't have the power at this point.
Perriello may actually win this. Yes, about half the Virginia Dem electorate is undecided, but Northam has a ton of establishment backing and he can't even manage a modest lead in the early going. It's not great that neither are terribly well-known, but it's a much bigger problem for the guy who's the second-highest ranking official in the state than it is for the guy who actually is running as an underdog. Perhaps this poll will shake things up a bit in terms of the establishment support, which it should. There's no need to settle here. Perriello is someone who could conceivably be on a national ticket in three years, and who could help relaunch the party given Virginia's proximity to DC. One of the many problems with the culture of the Democratic Party is that it doesn't develop prospects like it used to, i.e. running men in their 60s and 70s for the Senate because they don't have anybody younger who is promising. Perriello is someone who could be a prospect for Senate or the White House for some time to come if he wins. It seems like gross political malpractice to toss that aside, particularly since Northam doesn't seem to really have a base or much public support.
I'm going to chip in a couple bucks to help Tom Perriello's gubernatorial campaign in Virginia and you should consider it too. Why? It's something of a story because Democrats have already largely decided to unite behind a candidate, Ralph Northam. Who is he? Only a guy who considered switching parties and becoming a Republican—in 2009, and someone who has described himself as economically conservative. Northam fits the profile perfectly of the failed Democratic candidate type of recent years, the bland pol who's going to talk a lot about stuff like "bipartisan problem solving" even though the past two election cycles strongly indicate that this Clinton-era message fails to win anymore.* Democrats of this type, from Katie McGinty to Ted Strickland to Patrick Murphy to Evan Bayh (perhaps the ultimate exemplar of this style) lost badly last year. I get the feeling that Northam will go on the attack relentlessly against the Republican and never bother to develop much of a positive case for himself, to find any sort of compelling story to tell, and lose much in the way that Creigh Deeds did in 2011. Perhaps I'm wrong about the guy, and perhaps the off-year out-party dynamics will favor him such that it won't matter. I don't know. But Perriello exemplifies the opposite of this type of politics, and given the disasters associated with the long past its sell-by date Bayh-esian style of politics in recent years, I'd rather take that out for a spin. Perhaps it's a higher risk (though, again, bipartisan problem solvers lost a lot last year and in 2014), but the reward is much greater. He's no messiah but his main downside–military hawkishness–is irrelevant to this particular post. And while resume is a little thin–a single Congressional term and a stint with the State Department–the flip side of that is that he's young (42) in a party that is noticeably lacking youth in its political leaders. Plus if he wins and does a decent job, it is a job that could lead to something bigger given Virginia's proximity to the D.C. media market. I'm simply past arguments about who the safe choice is anymore. Mainly because too many safe choices lost winnable races during the Obama era.