Currently viewing the tag: "2016 Elections"
I think the worst thing about Hillary's much-maligned slogan is that I do truly think she believed it. It's not a good sign when your genuine expressions of patriotic fervor sound indistinguishable from garden variety pandering that make liberals (and voters at large) groan. But while it is true that the Clintons basically employ a bunch of hacks and it sounds like something confected from them via focus-grouping, it seems to be just so off from what anyone even remotely inclined to vote for a Democrat would respond to that I have to assume that Clinton herself actually believes it and pushed for it to be included in the campaign. She did put a bunch of other issues–military intervention, capitalism, etc.–in the same terms. America is a force for good! Capitalism helped make the country great! It's not like she's the first to do this stuff, they all sort of do, but what was the point of it? Who was supposed to respond to it?
Despite Hillary Clinton's loss, I'm not really hearing much chatter about how North Carolina was one of the brighter spots for Democrats this election. But it was! Here's why:
Democrat Roy Cooper is almost certainly going to be the state's next governor.
Little Marco has a tiny lead with a GOP-leaning pollster. I'm feeling pretty good about retaking the Senate, and IMO getting to 52 is going to be crucial to get any sort of progressive SCOTUS Justice. I think the odds are decent. The only Republican Senate incumbents who I think are going to get any meaningful ticket-splitting support are Ayotte and Toomey, and in both cases I suspect it's not going to be enough as Clinton is going to win both states by double digits. The Northeast, for whatever reason, apparently can't bring itself to give up on non-crazy Republicans, but the top-of-ticket dynamics will be too brutal. Rob Portman managed to luck out from Ted Stickland's complacency in Ohio, and as Trump is probably going to win Iowa, Grassley is safe there. But are there really non-nominal percentages going to go Clinton-Rubio or Clinton-Burr or Clinton-Johnson? I simply don't see it. (And Roy Blunt in Missouri is the rare opposite case where the Democrat could get some Republican crossover voters because of his being a weak general election opponent–TPM's Polltracker has Trump by less than 5, where it's plausible Democrats could take the seat.)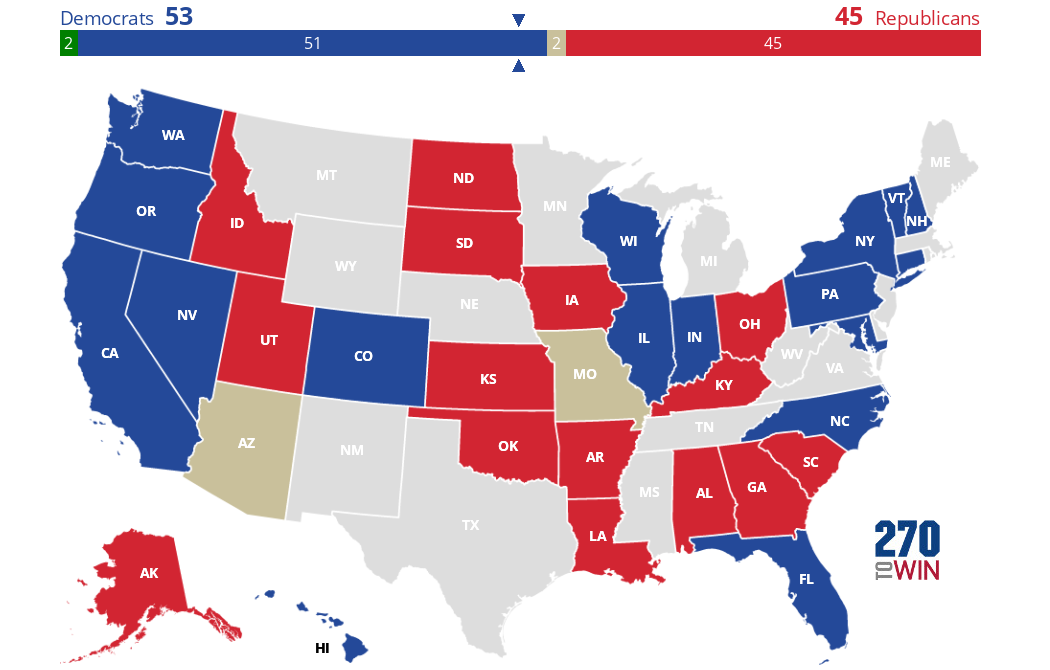 Click the map to create your own at
270toWin.com
I'm not quite ready to give up on the upset defeat of McCain, though he does continue to exert an odd hold on the Arizona electorate, which consistently delivers him horrible poll numbers year after year and then dutifully re-elects him every time he's on the ballot. I guess we'll see if his most recent shedding of any plausible bipartisan cred/a Clinton win in Arizona do to him.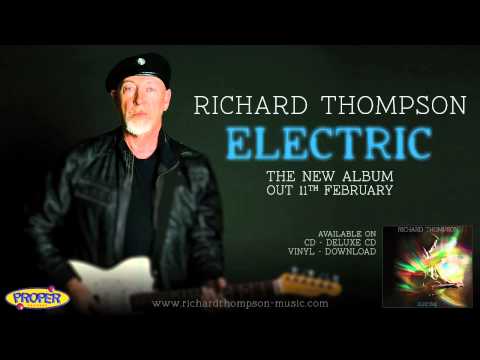 Sam Wang has encouraging news:
[T]he Senate aggregate has lagged behind the Presidential Meta-Margin by 1-2 weeks. In other words, the Senate aggregate gives us a time-machine look at late September – around the time of the first Presidential debate. That's when things turned around for Clinton. […]
This classic Matt Yglesias piece on the man will live forever, though his recent sorta-apology over it reminds me of why I steer clear of Vox. Not really sure why "maybe he's dumb, but so are most other congresspeople" is the basis for a seemingly sincere apology, aside from a general desire to avoid alienating powerful people generally.
This is too clever by half:
[Loretta] Sanchez has been reaching out to GOP leaders, and she's gained a few endorsements for her trouble. On Thursday, Sanchez appeared on conservative radio host Hugh Hewitt's program, and he endorsed her shortly thereafter. Last month, ex-Los Angeles Mayor Richard Riordan also backed her. But Sanchez is going to need a lot more help if she's going to win in November in this expensive state.
Yeah, this may get a few Republicans to vote for her over Kamala Harris in November, but it's not like winning a boatload of Republicans is a proven path to success in this sort of race, and it's not as though bucking up her support among conservatives will have no effect on her hold on Democrats. Remember the sorry case of Howard Berman, last seen trying to beat a fellow Democrat by hitting up the likes of John McCain for an endorsement. There's no particular reason to believe running a Joe Lieberman style campaign will work in 2016 California any better than it worked for Lieberman in 2012. Admittedly Sanchez doesn't have a particularly better option, given her Blue Dog record she can't credibly attack Harris from the left, and she's responding rationally enough to the incentives, but it just seems so pointless, an indictment of the system that creates these incentives.
For those of you who thought that getting dismembered by Donald Trump in the presidential race would somehow cause the press to quit hyping the human-sized vacuum that is Marco Rubio, ha ha ha no. Undeniably the worst thing about his running for the Senate again is that we're going to have to listen to another four months of stories about what a legend he is before he loses again.
Continuing with the below-the-presidential race theme, because sometimes you just need to not consider Donald Trump for a while, we recently saw some career-worst poll numbers for SCOTUS obstructor-in-chief Chuck Grassley. Doesn't necessarily mean he's going to lose this time, as the article argues. But you don't want to acquire the reputation of an obstinate partisan (let alone the most obstinate partisan) during a presidential election year in a blue state. This particular reach goal is getting increasingly within reach, as I've long thought it might be.