Currently viewing the tag: "2016 Election"
I think this Chris Cillizza piece is pretty astute generally, but I do think something needs to be said about this:
The idea of the media as the intermediary between Trump and the public — reporting on and analyzing his proposals, contextualizing his statements, fact-checking him (and the Democratic politicians opposing him) — is totally lost on him.  The media is to be judged solely on whether or not they, collectively, are being nice to the president.
Mark Schmitt has a piece for Democrats on Trump that is worth reading in full. Here are some key points:
At other moments, though, Democrats realise that Trump has no fixed ideology or purpose other than bluffing his way through his biggest and most daring fraud ever. He did say "infrastructure"; he did say he would fix "inner cities" (places where "you get shot walking to the store"); he and his daughter Ivanka mentioned paid family leave. Perhaps these are opportunities. Maybe he's as easily nudged in the direction of such progressive policy goals as he is towards the adamantine conservatism and racism reflected in his first three high-level nominations.
I think Jeet Heer is more right than not here:
Rather than blaming the "fake news" sites or social-media purveyors like Facebook, Democrats need to realize they compounded the problem by gearing their general-election strategy to winning over moderate or Trump-averse Republicans. This strategy had the effect of blunting a message of economic populism, which got sidelined despite the fact that Clinton was running on the most progressive platform in history. Pursuing suburban college-educated Republicans who were always going to be reluctant to support her clouded over the very economic message that would've appealed to working class voters of all races, leading to a fatally lower turnout from the Obama coalition in decisive states like Michigan, North Carolina, and Pennsylvania.
President: Clinton 353 Trump 185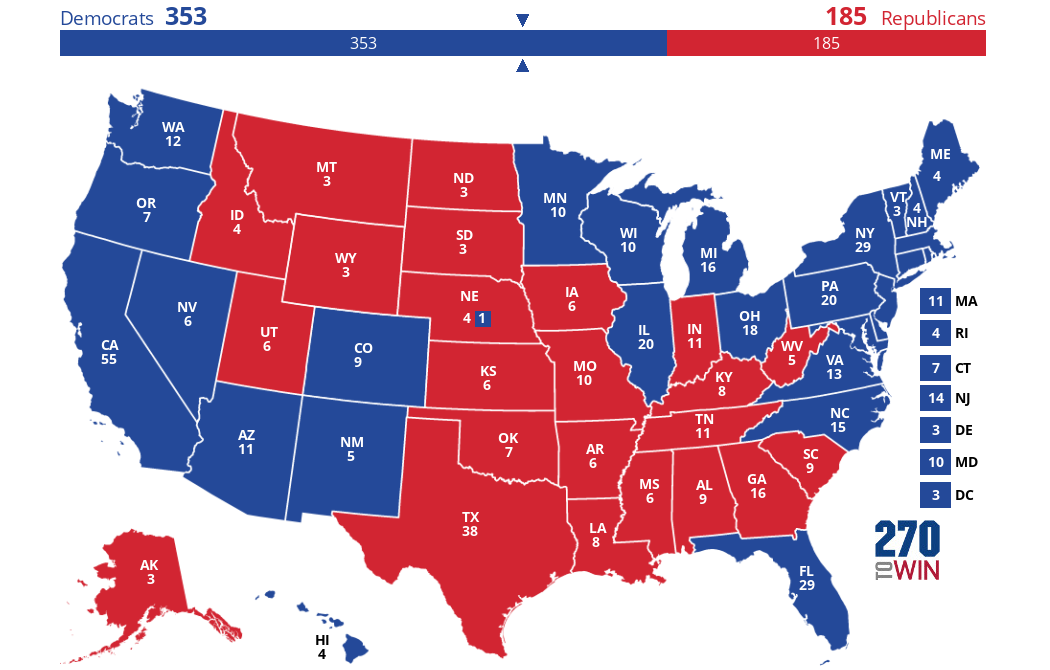 Click the map to create your own at
270toWin.com
Probably the biggest limb I'm climbing out on is calling Arizona for Clinton. This could easily turn out to be wrong, but I'm trusting the record-breaking Hispanic turnout to clinch it for her–TPM has it as Trump +5, but they also have Nevada as leaning Trump, so… I'm also giving her NE-2, which is the second-biggest limb I'm stepping out on. The polls are ending on about a 4-point difference so I'll stick with my original 7-point prediction, on the basis of superior Clinton organization and undercounted Hispanic voters. It may count for more than that.
Politico has a pretty nice round-up here. Democrats seem more confident than Republicans in general.