Currently viewing the tag: "2016 Election"
I guess we're arguing whether Hillary Clinton was the worst candidate in history or not again. I'm sort of bored by the topic but here goes. Clinton won 48%, pretty much exactly what John Kerry won in 2004. Trump won 46%, just slightly better than John McCain did in 2008. Both candidates more or less replicated (in percentages) the worst result their party achieved this century. It makes sense considering that both were very unpopular candidates. Which is why this Pierce piece strikes me as asinine. "Trump was actually pretty great" is something that will make Clinton supporters feel a bit better about having backed a candidate who twice lost elections deemed to be unloseable, but it just doesn't add up. Trump won the nomination because the other major contenders were either tainted or had flaws that made them unpalatable. He managed a whopping 39% of the vote there. Trump's general election win was largely dumb luck to such an extent that he didn't even think would happen, Comey plus a fluke of the electoral system. It undoubtedly makes people feel better to build Trump up to argue that Clinton was actually a great candidate who just got beaten by a better one, but in actuality she and Trump were both pretty bad. The real difference is that Republican elites largely kept their distance from Trump until the election while Democratic elites nearly unanimously supported Clinton. That she failed twice makes them look bad. So it's no surprise this sort of revisionism would appear.
I think this Chris Cillizza piece is pretty astute generally, but I do think something needs to be said about this:
The idea of the media as the intermediary between Trump and the public — reporting on and analyzing his proposals, contextualizing his statements, fact-checking him (and the Democratic politicians opposing him) — is totally lost on him.  The media is to be judged solely on whether or not they, collectively, are being nice to the president.
Mark Schmitt has a piece for Democrats on Trump that is worth reading in full. Here are some key points:
At other moments, though, Democrats realise that Trump has no fixed ideology or purpose other than bluffing his way through his biggest and most daring fraud ever. He did say "infrastructure"; he did say he would fix "inner cities" (places where "you get shot walking to the store"); he and his daughter Ivanka mentioned paid family leave. Perhaps these are opportunities. Maybe he's as easily nudged in the direction of such progressive policy goals as he is towards the adamantine conservatism and racism reflected in his first three high-level nominations.
I think Jeet Heer is more right than not here:
Rather than blaming the "fake news" sites or social-media purveyors like Facebook, Democrats need to realize they compounded the problem by gearing their general-election strategy to winning over moderate or Trump-averse Republicans. This strategy had the effect of blunting a message of economic populism, which got sidelined despite the fact that Clinton was running on the most progressive platform in history. Pursuing suburban college-educated Republicans who were always going to be reluctant to support her clouded over the very economic message that would've appealed to working class voters of all races, leading to a fatally lower turnout from the Obama coalition in decisive states like Michigan, North Carolina, and Pennsylvania.
President: Clinton 353 Trump 185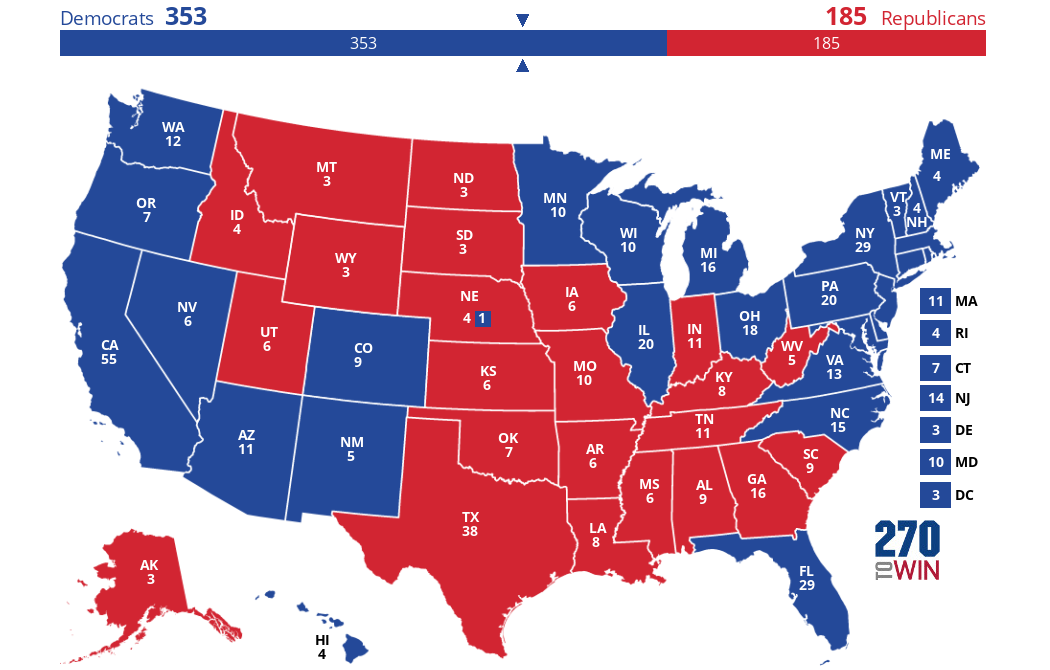 Click the map to create your own at
270toWin.com
Probably the biggest limb I'm climbing out on is calling Arizona for Clinton. This could easily turn out to be wrong, but I'm trusting the record-breaking Hispanic turnout to clinch it for her–TPM has it as Trump +5, but they also have Nevada as leaning Trump, so… I'm also giving her NE-2, which is the second-biggest limb I'm stepping out on. The polls are ending on about a 4-point difference so I'll stick with my original 7-point prediction, on the basis of superior Clinton organization and undercounted Hispanic voters. It may count for more than that.