Lev is a software developer and political observer/sometime activist in the East Bay region of California, with a great interest in the game of politics and many areas of policy. He started a personal blog in 2006 and loves the form for its author/reader interaction.
Author archive:
Vote, people!
Also, while everybody has been talking nonstop about what a horrible election this has been (myself included), it wasn't entirely barren of wonderful little moments:
President: Clinton 353 Trump 185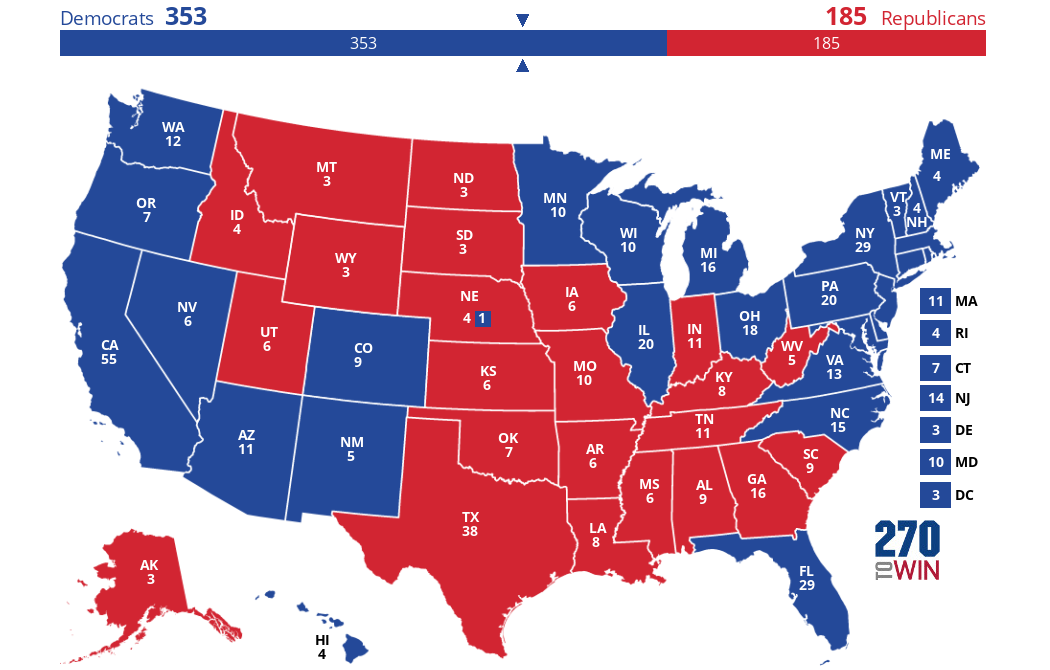 Click the map to create your own at
270toWin.com
Probably the biggest limb I'm climbing out on is calling Arizona for Clinton. This could easily turn out to be wrong, but I'm trusting the record-breaking Hispanic turnout to clinch it for her–TPM has it as Trump +5, but they also have Nevada as leaning Trump, so… I'm also giving her NE-2, which is the second-biggest limb I'm stepping out on. The polls are ending on about a 4-point difference so I'll stick with my original 7-point prediction, on the basis of superior Clinton organization and undercounted Hispanic voters. It may count for more than that.
Senate: Democrats 52 Republicans 48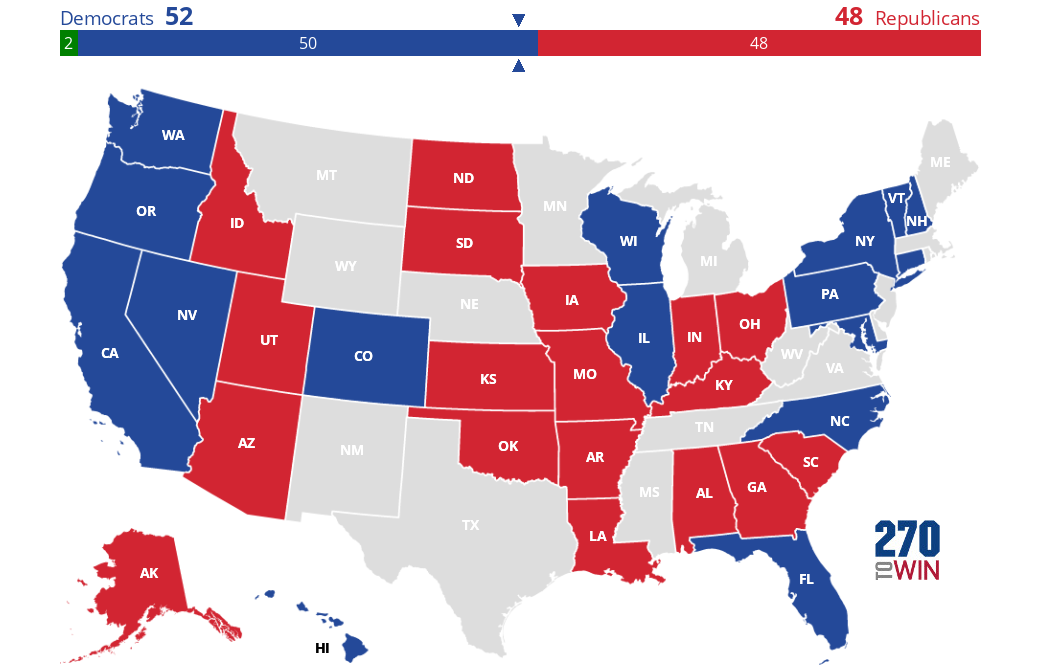 Click the map to create your own at
270toWin.com
Again, counting on superior Hispanic turnout in some of these predictions, namely in Florida. Doesn't help Democrats as universally as Colorado, say, due to historic (but rapidly fading) Cuban Republican sympathies. But Clinton should be able to pull Murphy over the line. The Evan Bayh comeback has been tragicomic and while he may still win, everything about that race feels like a Bayh loss to me. I'll count my tears. As for the rest, Clinton has fallen to 9 points behind in Missouri, so that's an extremely tall order for Koster to overcome, though not impossible. And, sadly, I've seen no indication that McCain has to worry.
House: Democrats +21 (GOP Control 226-209)
270towin doesn't allow House maps to be shared, so you can refer to that if you wish and I'll just call the undecideds (as well as the leaners I disagree with). California Republicans will experience yet another humiliating death by dropping four House seats (Denham, Valadao, Issa, and Knight), as well as dropping below 1/3 in the legislature again. My guess is Clinton 65-Trump 35 or so for the state overall. Three seats should also be gotten in New York (Katko, as well as the open seats of Hanna and Gibson). Probably another gettable three if Trump really tanks in New York, which is possible. Heavily Hispanic TX-23 will flip back for the fourth or fifth straight election, and Democrats will take back swingy, wealthy IL-10. The Democrats will finally finish off Mike Coffman in CO-6, and Scott Garrett's reign as a Trumpian in slightly red NJ-5 will end. John Mica's lazy campaign will cost him his long-held seat in FL-7, Democrats will win open seats in MI-1 and PA-8. And that's it. Eight short of House control, though with enough leaners that a truly terrible Trump performance could make it interesting. If Republicans hemorrhage more seats in New York and Florida, we could get quite close.
Also too: Democrats retain their governorships and add Indiana and North Carolina. In terms of statehouses: both Nevada chambers, the New Mexico House, the Washington Senate, the Colorado Senate, both New Hampshire chambers, the Minnesota House, the Michigan House, and the New York Senate seem the most likely to flip to Democrats in roughly that order. The Kentucky House and the Iowa Senate are the most likely Republican pickups, but I predict both still somehow survive due to the oft-proven resiliency of those local parties. At least until 2018.
So, all in all, not a Trumpocalypse, but a thoroughly shitty night for the Republican Party. Let's see how it goes.
I'd like to thank Jon Ralston for salvaging my weekend. It's likely that I would have spent all of it anxious about the possibility of Trump winning, but Rolston's reporting about explosive Hispanic turnout in Nevada–a must-win Trump state–really did help me relax and enjoy life for a goddamn minute during this endless slog of an election (which, incredibly, is about to end). I suppose this is another way of saying that Wednesday can't come quickly enough for me, but I'll do some predictions later today.
Before he leaves office, President Obama definitely needs to fire James Comey. It's the only satisfactory solution: Clinton firing him would look like payback, and establishing a norm of new presidents firing the FBI Director and picking their own is not one I want to get started. We've seen enough norms get blown this cycle. Regardless of his motives, Comey broke with longstanding norms and the advice of colleagues in playing ball with rogue agents in the FBI and Republican zealots like Chaffetz, not to mention the utter lack of professionalism in managing his own agency and exerting authority over his people that led to the situation in the first place. He went out on a ledge over this, and he needs to answer for it. But I have to wonder if he will. Obama, recall, vetted Comey for a Supreme Court seat. That may have just been for window dressing–it was back in 2009, when Obama was still fully in kum-ba-yah mode. But it's also sort of insane, and not just in hindsight. It would have been like George W. Bush considering Eric Holder up for the Court. If nothing else, it shows that Obama had been thinking about putting Comey into a top position in the government for basically his entire presidency, and it shows how highly Obama thinks (or, at any rate, thought) about him. Obama has delivered some not-so-veiled criticism at Comey, sure. But it's easy enough to imagine Comey announcing that there's nothing in the emails a few days after the election and Obama deciding not to hold a grudge. Generally that's a good thing, but I think it would be a big mistake in this case. It's definitely better for presidents not to hold grudges and Obama truly doesn't do it, even when sometimes I feel he shouldn't be so quick to forgive. There's a difference between forgiveness and accepting horribleness out of a desire to avoid fuss. But a "no drama" resolution to this would essentially endorse Comey's behavior and I fear that's how Obama will play it.
The other factor at play that I see is that Comey's perfidy/incompetence/spinelessness (take your pick) is sort of a noxious coda to Obama's deeply held devotion to bipartisan outreach. Now, obviously, that's changed shape since the early years when he was fine with letting Republicans gum up the works for months. But it's never gone away. You could look to the TPP or the Merrick Garland nomination as recent plays for bipartisanship. They haven't exactly worked out so well. Also, Obama's big bipartisan appointments have largely been embarrassing. David Petraeus, Chuck Hagel, James Comey. Admittedly Obama bears little responsibility for Petraeus's conduct, and there's also his retention of Robert Gates, which turned out okay until after he left office. But combine the legislative failures of Obama's bipartisanism with the Republicans' embrace of crisis governance and delegitimization, toss in the failures of his big bipartisan appointments, and you wind up with nearly a complete repudiation of Obama's entire belief in bipartisanship. Firing Comey would be the final nail in the coffin in a lot of ways–Comey doesn't necessarily disprove that no Republican can be relied upon to faithfully serve a Democrat so much as that Comey just proved to be weak and stupid, but all the same, it's probably going to be some time until a Democratic president tries something like that again. I'm afraid I just don't see a lot of hope that he'll finally abandon the bipartisan dream and just toss the last vestige of it overboard.
I'd be happy to be wrong, though.
Politico has a pretty nice round-up here. Democrats seem more confident than Republicans in general.