Lev is a software developer and political observer/sometime activist in the East Bay region of California, with a great interest in the game of politics and many areas of policy. He started a personal blog in 2006 and loves the form for its author/reader interaction.
Author archive: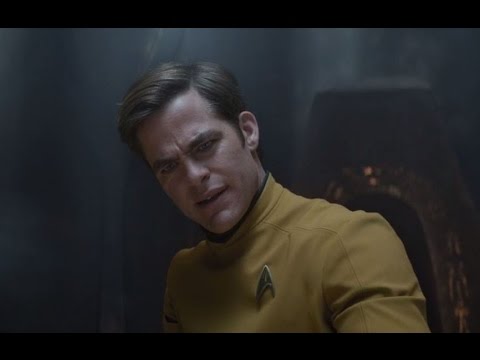 The opening scene is really sort of a statement of purpose. After a movie that was mainly unpleasant to watch–why did J.J. Abrams of all people want to essentially remake Star Trek Nemesis?–the next installment opens with a joke. And even a good one! The presence of Simon Pegg is immediately felt here and throughout the film. There's more humor, more heart, and throughout a sense that Star Trek is remembering what it's actually supposed to be about. Unfortunately, the film was much less successful than the Abrams-directed installments, but I get why. After getting punched in the face one tends to avoid getting punched again.
Not reading so many stories about how the Hillary/Bernie divide is some sort of permanent rift in the party anymore, though that's been pretty obvious for some time. It's really just sort of a hobby among people on the internet who have too much time and who in any event would never vote for a Republican anyway. I will say that the Bernie people wanting to keep this alive are largely nobodies while the Clinton people wanting to keep it alive are top brass, but that's really more sad for them than anything else. Annoying, but sad.
Keep your subscriptions to premier MSM publications paid up until Trump and Pence are gone, then just cancel them all. They're what we've got for now and we have to keep them going because there isn't an immediate alternative, but their moral bankruptcy and fundamental contempt for their paying customers–both of which led directly to Trump winning–requires some sort of atonement. It would be different if they owned their mistakes of the past generation and were working to improve but, you know, they're doing the opposite.
Still not sure if it's going to happen–I can either see Congressional Republicans caving on DACA or Congressional Democrats stupidly backing down to be seen as Grown Ups, perhaps a bit less the latter given what I've been reading though who knows–but I'm pretty sure it's not going to be good for Republicans if it does. The press does indeed cover them as if they don't have any agency and rarely pokes holes in their spin, but it's going to be pretty hard to blame Democrats when they run everything, ultimately.
I've been really busy with work the past two days and have barely read any news. Probably better not to opine until I'm caught up. I'm sure it hasn't been two days of nonsense two-minute rages! That couldn't be!
There definitely are people out there who get mad at you when you criticize Democrats nowadays, as though the Republican Party is a shining example of what happens when you only criticize out-group. (Yeah, certain attacks are permitted, but only ones from a specific point of view and only from very specific people.  An analog of Reagan's 11th Commandment is still not a great idea when one considers how its practitioners turned out.) Ultimately, if you want a better Democratic Party (which I think most every Democrat does), then you have to criticize the people who make that harder. Dianne Feinstein is the ultimate limousine liberal who believes in some socially liberal things but other than that doesn't care, Chuck Schumer holds I don't know what beliefs deep down, but both are fundamentally defined by some sort of political anti-courage which makes them regularly sell out their own side for pretty much nothing. Feinstein voted for the Iraq War, and Schumer was cool with torture for a time. Feinstein also one time let Dubya confirm a Circuit Court judge for no reason, and Schumer opposed the JCPOA/Iranian nuclear deal. Also there was that fence thing. It's not like the right stances would have hurt their careers, they just chose to do the wrong things for no reason.
Read more on Better Than The Alternatives, I Suppose. Some, Anyway….
And Seven of Nine's outfits now become the franchise's second-most embarrassing pander to straight men.
As you can tell from the address of the post, this marks the third time I've written about this movie for the site, and probably my third distinct take on it. I'm always evolving, what can I say? My initial take was sort of guardedly positive, my second was fairly critical. This is going to be even more critical. I think this is just a movie that wears poorly with time! It's okay in the theater and for maybe a couple of days after–the Abrams treatment is typically an invigorating one, to be sure. Then you get to thinking about it, and it drops in your estimation. Then you watch it again a few years later and it drops more. Then you read a review or listen to someone talk about it and think, damn, he's right, and it drops some more. And so on. As with the prior film, virtually all of the pleasures of the movie are visceral. Unfortunately, there just aren't as many of them here. Abrams reduced the franchise to shallow fun, which wasn't great, but at least it was an improvement on the grim, unearned miserabilism of Nemesis. For reasons surpassing comprehension, Abrams turned his hollow ship in the direction of miserabilism for his follow-up. I have no idea why. I wish he hadn't.
I was just thinking the other day about how weird it was that 10-15 years ago, there was this meme of openly pedophilic sentiment toward the Olsen Twins, which was oddly just sort of tolerated somehow. Admittedly, feminism was at a low ebb around 2005, but it's difficult for me to come up with another occasion where it was fine to just openly ponder the desirability of tweens in that way. And then it just kind of stopped. I never really understood it. I definitely get that some early teenagers prefer a "porny" look, not that I approve of adult males getting gross over it, but I don't think that was the source of this particular phenomenon. It was this weird sort of jokey thing almost. And then Elizabeth Olsen comes on the scene later and she's treated like a normal actress. Not even given the weird treatment of a Zooey Deschanel so far as I can tell. Just inexplicable.