From the monthly archives: January 2018
There definitely are people out there who get mad at you when you criticize Democrats nowadays, as though the Republican Party is a shining example of what happens when you only criticize out-group. (Yeah, certain attacks are permitted, but only ones from a specific point of view and only from very specific people.  An analog of Reagan's 11th Commandment is still not a great idea when one considers how its practitioners turned out.) Ultimately, if you want a better Democratic Party (which I think most every Democrat does), then you have to criticize the people who make that harder. Dianne Feinstein is the ultimate limousine liberal who believes in some socially liberal things but other than that doesn't care, Chuck Schumer holds I don't know what beliefs deep down, but both are fundamentally defined by some sort of political anti-courage which makes them regularly sell out their own side for pretty much nothing. Feinstein voted for the Iraq War, and Schumer was cool with torture for a time. Feinstein also one time let Dubya confirm a Circuit Court judge for no reason, and Schumer opposed the JCPOA/Iranian nuclear deal. Also there was that fence thing. It's not like the right stances would have hurt their careers, they just chose to do the wrong things for no reason.
Read more on Better Than The Alternatives, I Suppose. Some, Anyway….
And Seven of Nine's outfits now become the franchise's second-most embarrassing pander to straight men.
As you can tell from the address of the post, this marks the third time I've written about this movie for the site, and probably my third distinct take on it. I'm always evolving, what can I say? My initial take was sort of guardedly positive, my second was fairly critical. This is going to be even more critical. I think this is just a movie that wears poorly with time! It's okay in the theater and for maybe a couple of days after–the Abrams treatment is typically an invigorating one, to be sure. Then you get to thinking about it, and it drops in your estimation. Then you watch it again a few years later and it drops more. Then you read a review or listen to someone talk about it and think, damn, he's right, and it drops some more. And so on. As with the prior film, virtually all of the pleasures of the movie are visceral. Unfortunately, there just aren't as many of them here. Abrams reduced the franchise to shallow fun, which wasn't great, but at least it was an improvement on the grim, unearned miserabilism of Nemesis. For reasons surpassing comprehension, Abrams turned his hollow ship in the direction of miserabilism for his follow-up. I have no idea why. I wish he hadn't.
I was just thinking the other day about how weird it was that 10-15 years ago, there was this meme of openly pedophilic sentiment toward the Olsen Twins, which was oddly just sort of tolerated somehow. Admittedly, feminism was at a low ebb around 2005, but it's difficult for me to come up with another occasion where it was fine to just openly ponder the desirability of tweens in that way. And then it just kind of stopped. I never really understood it. I definitely get that some early teenagers prefer a "porny" look, not that I approve of adult males getting gross over it, but I don't think that was the source of this particular phenomenon. It was this weird sort of jokey thing almost. And then Elizabeth Olsen comes on the scene later and she's treated like a normal actress. Not even given the weird treatment of a Zooey Deschanel so far as I can tell. Just inexplicable.
Be interesting to see if Greitens goes down, my guess is that he probably will. You can always tell which politicians have a lot of friends and which ones don't from the response to a scandal. Doesn't seem like Greitens has many friends, not that they'd probably want to be associated with this grisly story, but the only reason why some politicians survive scandals and others' don't is all about how many friends they have. What they do, up to a point, is immaterial.
I think the worst thing about Hillary's much-maligned slogan is that I do truly think she believed it. It's not a good sign when your genuine expressions of patriotic fervor sound indistinguishable from garden variety pandering that make liberals (and voters at large) groan. But while it is true that the Clintons basically employ a bunch of hacks and it sounds like something confected from them via focus-grouping, it seems to be just so off from what anyone even remotely inclined to vote for a Democrat would respond to that I have to assume that Clinton herself actually believes it and pushed for it to be included in the campaign. She did put a bunch of other issues–military intervention, capitalism, etc.–in the same terms. America is a force for good! Capitalism helped make the country great! It's not like she's the first to do this stuff, they all sort of do, but what was the point of it? Who was supposed to respond to it?
I'm always amused when Americans say they're going to move to another country if X should happen, or if candidate Y should be elected. Obviously there are obstacles. Getting a visa, which means going through a legal process, finding a job. Resettling your family if you have one. Finding schools for the kids, finding a new social circle. This is all really stressful, difficult stuff! Really, it's like all the stressful things at once. But that aside, the real issue is I think a cultural one. Americans are among the most provincial people out there. The major contenders would probably have to be the more closed societies out there today, your Saudi Arabias and North Koreas and whatnot. They at least have an excuse for provincialism, which is that they have no real say in the matter. Here, it's a choice. The bulk of Americans (last figure I read was 75%) don't even own a passport and wouldn't watch a subtitled film or listen to a non-English pop song if you paid them to. They are happy for "news" that is entirely fluff and ignores international news (much as I'd like to blame the media entirely for dumbing down the American versions of their publications, there's no reason for me to believe there is any demand for that stuff not being fulfilled–NPR and The Economist do more for their niche audiences). Granted, there are exceptions! Certainly a subset of Americans like these things. Some certainly do travel, even to places that aren't just curated spaces for unadventurous tourists. But the mainstream is heavily resistant to anything "foreign" in a way that is not common in the rest of the world. You can hear American pop hits pretty much anywhere in the world, but it's only every few years that anything non-English becomes a hit in the United States (i.e. Gangnam Style, Macarena, etc.). Even Russia–a pretty closed off, provincial nation in its own right–is way more receptive to foreign films and music than Americans are. I know because I've been there. It's just provincialism.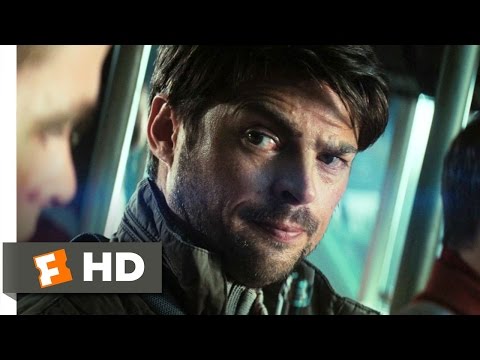 With the reboot upon us, it's time to reboot the format of this feature. With no further ado, let's get to this.
Somehow the title galls. Just plain Star Trek as a title is not an addition to the franchise, but a challenge, a replacement. The "not your father's Star Trek" tagline is, similarly, a message of replacement. Forget all that silliness, here's a Kirk and Spock for the dubstep generation! For all the flailing about "the regular timeline is still in place," the film's timeline is the one that the series followed from then on out. There was no fixing of the timeline. This is the timeline that matters, the one that obliterates everything except Enterprise, of all things. Enterprise! Who could have imagined that? Who even wanted that?
This is a great piece, but maybe a little to absolute in its conclusion. Yes, racism is there all around the world, and I'm sure Erik knows better than I do about, say, how Mexicans look down on Hondurans and Guatemalans. But there are some countries that actually do make multiculturalism work. Canada, obviously. Switzerland. New Zealand (which is 1/4 Maori and Polynesian). South Africa is not thought of in those terms because pretty much everybody is black, but it's a pretty huge country with nine official languages and a ton of different traditions and peoples. Considering the recent history of conflict in Africa this is not a small achievement! But even if you just look at the white people getting along with non-white people, there are places that pull that off satisfactorily well. Not that those places are without their tensions (Switzerland has a notoriously racist right wing), but it can work. Obviously having a major political party that is hell-bent on not making it work is a problem, but there's also a class element too as with rich liberals whose commitment to social justice ends when it's time to put little Brianna into a public school.