From the monthly archives: December 2011
Weekly Standard on Ron Paul's newsletter, via Goddard:
The Weekly Standard notes it's these writings and Paul's "decades-long promotion of bigotry and conspiracy theories, for which he has yet to account fully, and his continuing espousal of extremist views, that should make him unwelcome at any respectable forum."
Now remember that the two top Republican candidates are a guy who believes and continually states that Obama went on an apology tour and a guy who has called the president an Affirmative Action President and a Kenyan anti-colonialist. Clearly, believing conspiracy theories and racial bigotry aren't much of a disqualifier for GOP candidates. Admittedly, Ron Paul's newsletter went far beyond those, and they're hardly all behind him, especially on economic matters (remember the lurking threat of Ameros?). I say, let's just be frank about this.
Do you think President Obama should make any recess appointments over the Winter Break? Do you think he will?
I definitely think he should. Obama seemed pretty steamed about Repubs not giving Richard Cordray a vote to be the Consumer Financial Protection Chair, and it would make sense for him to recess appoint Cordray to the job since it's not like they're going to accept anyone else. Might as well give it to his choice, right? Obama should also recess-appoint three new National Labor Relations Board members, and maybe even a circuit judge or two for good measure (the unfairly-rejected Caitlin Halligan comes to mind). I fully expect doing this would absolutely enrage Senate Republicans, possibly leading them to try to shutdown the Senate altogether as they frequently threaten to do. But I do not see this as a bad thing, since it would force Democrats to finally bite the bullet and go nuclear on them. I doubt even the staunchest "traditionalists" in the Senate could stomach a tantrum of that magnitude. And I tend to think that Republicans might be wary to take that step because I think it would play very poorly, politically speaking, and losing the filibuster altogether would really hamper their strategy, both short- and long-term. They use it much more than Democrats, after all. Which would at least leave us with a few key posts staffed, and let Democrats know he's done being pushed around.
Charlie Stross presents a possible broader context for the National Defense Authorization Act and SOPA:
1. The USA is already a functional oligarchy. (Or, more accurately, a plutarchy.) It has been functioning as such for some time — since 1992 at the latest, although the roots of this system go back to before the Declaration of Independence — it's a recurrent failure mode. Historically such periods last for a few years then go into reverse. However, this time the trend has been running since 1980 or even earlier. What we're now seeing are the effects of mismanagement by the second generation of oligarchs in power; the self-entitled who were born to it and assume it to be the natural order of things.
If you asked me for one reason why mainstream conservatives shouldn't be trusted with foreign policy, my basic response would probably be that most of them never got over the Cold War ending, and are desperate to either reignite it with Russia or find a substitute in "Islamofascism," which by the way is one of the dumbest words ever created and needs to be retired*. Daniel Larison's blog frequently flags this rhetoric, and it is just endless from these guys. The sheer quantity of it just shows how much pent-up mistrust and hatred is still out there for Russia 21 years after the end of the Cold War. Admittedly, Russia should be treated with caution and skepticism, but it hasn't ever attacked us or even looked interested in doing so. To spend more than a second worrying about its threat to us seems excessive to me unless something changes. But that's not how it is among conservative elites. Larison catches Krauthammer contradicting himself by trying to push two separate Russophobic lines of reasoning simultaneously, and says:
Next target: France.
Admittedly, the present Euro situation doesn't exactly inspire much hope. But these ratings are relative, right? AAA means it's a good place to park your money relative to the other options, yes? Has France's position relative to the rest of Europe changed? And, if the Euro breaks up, will France have to default? I haven't heard anyone even suggest this.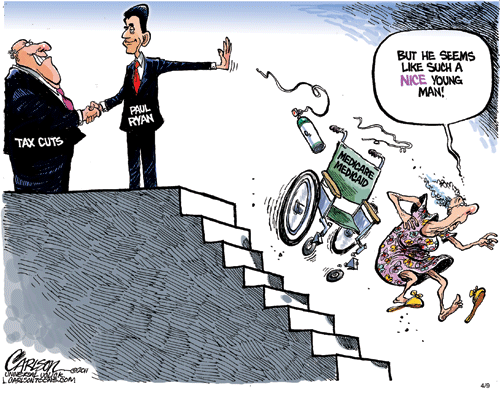 I'm from Oregon and I remember when Ron Wyden was elected to the Senate.  At the time I scratched my head and asked, "Who the fuck is this sweaty, lisping drip running for Senate?"  I remember discovering that he was a big advocate for the elderly through his entire career.  Here's Wikipedia:
Read more on WTF: Wyden's Entire Pre-Senate Career Was Spent Advocating FOR Seniors!…
I like my governor:
Gov. Jerry Brown, a Democrat, had the Republican Party – and the 2012 presidential race – in his sights Thursday when he blasted what he called the "skepticism, the denial and the cultlike behavior of political lemmings that would take us over the cliff" on the key issue of climate change.
On the same exact day the Iraq War ended. What a weird coincidence.
It's definitely a shame. I liked the guy in spite of his hawkery. Of all the "public intellectuals" out there, Hitchens was one who genuinely had substance, and some sense of integrity.