From the monthly archives: December 2010
I happened to see this headline over at TPM:
Barbour Spokesman: Mississippi Gov. Is Not Racist
This is funny. Usually, politicians insist they're not racist when they're being accused of racial insensitivity of some sort or other. It's a form of the straw man fallacy. For example: Governor Jones makes a joke that accidentally offends a minority group, gets angry when people notice and bring it up, and then holds a press conference in which he says, "I am not a racist." Being racist is considered a terrible thing in our society, being called that is a terrible insult. Turning the debate in that direction usually serves to shut it down, because Governor Jones is a nice guy! No hoods in his closet.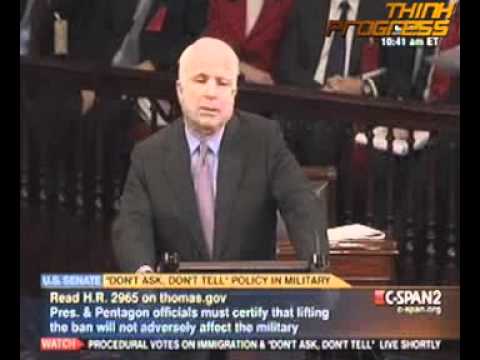 Ha ha: "What a bullet this country dodged in 2008. Frankly, I'm not sure he was even the best candidate on his party's ticket at this point…"
I understand if you don't have the heart to watch the video, but it's grimly fascinating. McCain sounds bad and looks bad. He's tired and worn out. I doubt he's near death, but if it were to happen tomorrow I would not be surprised on the basis of that video. He's blinking all over the place and shuddering, and he says he believes in following military leaders and names two Chiefs of Staff who are wary of ending DADT while ignoring the other three, as well as the friggin' Chairman and the Secretary of Defense, not to mention the president. He must think we're stupid. It's just funny that, in the end, McCain and Lindsey Graham are the only ones who even care about keeping DADT in place. The Senate Republican leadership doesn't even care and is probably glad it's over. Gay rights are a liability for Republicans now and the next big fight–repealing DOMA–is probably 5-10 years away at this point. Additionally, I hope this incident will help the media get over their notion that Lindsey Graham is anything special. Like Bob Corker, he often likes to talk like a Senator, but neither one has yet met an inconvenient position they couldn't just dump or an inconvenient vote they couldn't duck. There's a word for that.
I really don't know how Sully passed on this quote by C.S. Lewis about bad writing without snickering:
[Bad writing] is immediately recognizable. 'My blood ran cold' is a hieroglyph of fear. Any attempt, such as a great writer might make, to render this fear concrete in its full particularity, is doubly a chokepear to the unliterary reader. For it offers him what he doesn't want, and offers it only on the condition of his giving to the words a kind and degree of attention which he does not intend to give. It is like trying to sell him something he has no use for at a price he does not wish to pay.
This coming from a man whose close friend, J.R.R. Tolkien, thought Lewis' writing was a mishmash of ham-handed, barely disguised Christian propaganda:
Read more on Self-Awareness Fail Of The Day: C.S. Lewis On "Bad Writing"…
Precisely:
[T]he economically downscale portion of the Republican party consists almost entirely of blithering idiots. And this is no accident: if you don't make a lot of money and you vote Republican because of young bucks buying T-bone steaks and gays/retailers/schools/MSNBC desecrating the cradle of the Baby Jeebus, then you're an idiot. You're pissing your own health care, your own retirement, your own minimum wage because you're dumb enough to believe some fairy tale that Rush Limbaugh told you. It's a self-selecting group: people who don't make a lot of money and do have brains don't join the Republican party, because they'd like to have health care, Social Security, the opportunity to join a union, etc.
Read more on What Is Up With Those Teabaggers? Quote of the Day…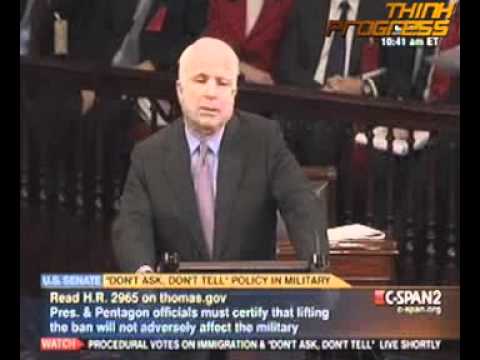 When even HotAir's Allahpundit is calling out slimy anti-gay Republican Senators on their votes against Don't Ask, Don't Tell, the wingnuts probably have a problem:
I support the move, but if you don't, look at it this way: As Gates has often said, if it didn't happen here it probably would have happened in the courts. Civilian control of the military is one thing, judicial control is something else, so the fact that repeal now wears a democratic halo will hopefully make it more tolerable to skeptics inside the branches. For your enjoyment (or irritation), via Think Progress, here's video of a very peevish Maverick grumbling in his floor speech today about liberal civilians from coast to coast high-fiving over this. True enough, but it ain't just liberals — support for repeal is upwards of 80 percent in some polls — and it ain't just civilians.
Read more on DADT Repeal Passes Senate 65-31 — Even Allahpundit Says Yay!…
Sully highlights this very poignant speech on how to fix The Offices we go to every day:
And a little more institutional bigotry is slated to be thrown into the dustbin of history:
On a 63-33 vote, and with six Republicans voting "yes," the U.S. Senate — at a little before noon today — voted for cloture on the stand-alone bill aimed at repealing the "Don't Ask, Don't Tell" law, overcoming the largest hurdle remaining for repeal of the 1993 law banning openly gay, lesbian and bisexual military service.
Read more on Senate Does Something! Achieves Cloture on DADT Repeal!…