From the monthly archives: October 2009
Sully ponders an interesting point by conservative economic historian Bruce Bartlett:
Suppose you had a 10 percent VAT and we said we weren't going to collect it for the next 10 months. People would buy like crazy. They'd buy toilet paper, they'd buy anything they could get their hands on that they knew they'd need in the future. We're depriving ourselves of a great stimulant tool by ignoring this.
One thing that I didn't take away from the news reports today about Harry Reid's announcement about the inclusion of a public option in the bill that will be presented to the Senate for a floor vote is this:
REID'S BILL ONLY ALLOWS PEOPLE

WITHOUT

HEALTH INSURANCE TO TAKE ADVANTAGE OF THE PUBLIC OPTION
I highlight that because one of the main arguments in favor of a public option has been the cost pressure that a public option would exert on the private "health" insurance market due to the potential scale of a real public option that ANYONE could choose to opt into.
If the public option is only available to a tiny slice of the American people, this "economies of scale" argument gets dramatically weakened.
Just something to bear in mind while pondering the convoluted legislative goulash the spineless schmuck in charge of the Senate put out there today.
h/t to The Rachel Maddow Show and Senator Ron Wyden (from my home state of Oregon) for casting this in the light I describe above.
Read more on Bear In Mind: Reid's Public Option NOT For Everyone…
Here's a random thought I wrote on Facebook recently about the announcement today that weak little Harry Reid managed to muster what little gumption he still possesses in order to include a public option in the health care reform bill that's headed for a floor vote in the Senate, which is qualified by the idea of a state "opt-out":
Oh, please, great Flying Spaghetti Monster, let this news be true and grant the politicos in the White House and Congress the stones to actually follow through and pass meaningful financial regulatory reform in order to rein in the power of those gluttonous financial institutions that have become "too big to fail":
Read more on Obama, Congress To Take On "Too Big To Fail" Banks…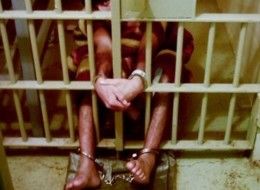 This was done in all of our names and we should all, individually, be deeply and profoundly ashamed:
We were receiving CIA intelligence. MI-6 and the CIA share all their intelligence. So I was getting all the CIA intelligence on Uzbekistan and it was saying that detainees had confessed to membership in al-Qaeda and being in training camps in Afghanistan and to meeting Osama bin Laden. One way and another I was piecing together the fact that the CIA material came from the Uzbek torture sessions.

I didn't want to make a fool of myself so I sent my deputy, a lady called Karen Moran, to see the CIA head of station and say to him, "My ambassador is worried your intelligence might be coming from torture. Is there anything he's missing?"

She reported back to me that the CIA head of station said, "Yes, it probably is coming from torture, but we don't see that as a problem in the context of the war on terror."

In addition to which I learned that CIA were actually flying people to Uzbekistan in order to be tortured. I should be quite clear that I knew for certain and reported back to London that people were being handed over by the CIA to the Uzbek intelligence services and were being subjected to the most horrible tortures.

I didn't realize that they weren't Uzbek. I presumed simply that these were Uzbek people who had been captured elsewhere and were being sent in.

I now know from things I've learned subsequently, including the facts that the Council of Europe parliamentary inquiry into extraordinary rendition found that 90 percent of all the flights that called at the secret prison in Poland run by the CIA as a torture center for extraordinary rendition, 90 percent of those flights next went straight on to Tashkent [the capital of Uzbekistan].
via Sully
Who wants to take bets on whether we'll see any of this in the mainstream TV media anytime soon?
Read more on Former British Ambassador Reveals How Bush Transported People For Torture…
The bit highlighted below has got to be my favorite quote of the week (via maru):
National Security Senior Adviser Gen. Paul Eaton (Ret.), who served more than 30 years in the United States Army and oversaw the training of the Iraqi military, responded to Mr Five Deferments' ["dithering"] accusations on Afghanistan.
Read more on General Eaton Blasts Cheney Over "Dithering" Criticism…
As Sully points out, take a look at this list of polling data and see if you can play the "one of these things is not like the other" game. It's pretty easy.

Even Geraldo Rivera — the douchemustachiest guy ever to graduate from my law school — can't stand Lou Dobbs. And, apparently, Dobbs is too over-the-top for even Fox News!
Speaking at a luncheon sponsored by the Spanish newspaper El Diario La Prensa on Thursday, Fox News host Geraldo Rivera said, "One of the aspects of our reality in the United States now is the defamatory tone of the immigration debate and how that immigration debate has slandered an entire race of people." Rivera proceeded to lay much of the blame at the feet of CNN's Lou Dobbs:
Read more on Lou Dobbs Too Toxic for Geraldo Rivera, Fox News…